Home décor can be tricky, especially when it comes to color. If you're not artistically inclined, and if you can't afford a pricey designer, you may be hesitant to experiment with accent color. But the good news is, you don't have to reupholster your leather couch or disassemble furniture to make a change. You can play with color relatively inexpensively, and the rules aren't really that hard. You can almost always pull off an attractive effect if you use one of three basic accent colors: red, blue, or yellow. These are primary colors – the colors from which almost all others are derived. No matter what main colors you're using, some value of red, blue, or yellow is sure to complement them.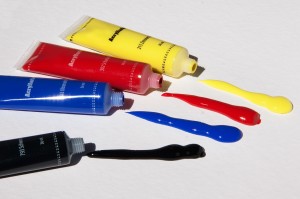 Red as an Accent Color
Red is a vibrant, exciting color and is a natural choice as an accent, because too much of it can easily overpower a room. You can use red to showcase an item or area of interest, because a bright splash of red will always grab attention. A few bright red throw pillows in a window seat can draw the eye to a beautiful view; red areas in a wall painting can attract attention to a mantelpiece. Red is often used as a dramatic counterpoint in rooms that are mostly decorated in stark, modern colors, such as white, black or gray. But more muted reds can also add warmth to rooms with a paneled or rustic décor. Try to concentrate red accents in a few key areas, rather than scattering them throughout a room, where their effect may be diluted.
Blue as an Accent Color
Blue can be a calming, tranquil color, but if you're using it as an accent, it may be more effective to go with bolder values. Electric blue has been used as a counterpoint to white for centuries: think of the beautiful villages on the coast of Greece, for example. If your walls are white, imagine the contrasting effect of blue door and window frames, chair rails, or paneling. Navy blue is a beautiful counterpoint to a pale champagne yellow, or even to reds with a blue undertone. You can use a soft blue to complement sage greens or beiges, and powder blues are beautiful opposite pink in a little girl's bedroom.
Yellow as an Accent Color
Yellow lends a bright, cheerful and airy effect to a space. Yellow accents are beautiful in a well- lit, sunny room, but they can also add the illusion of light to a windowless space, such as a basement game room. If you want to use a vivid yellow, don't overdo the effect: too much can be jarring. But a vase of jonquils, a bright yellow coffee pot, or a sunny antique plate can add a happy feel to any room. If you want a softer yellow, you can be more extravagant: A pale yellow or warm gold can be a lovely secondary color in a room decorated mostly in brown, beige, blue or green.
Have fun decorating with these tried and true accent colors. If you're moving into a new space, you can also get helpful advice and services from professional furniture movers in NYC.