Technology and online connectivity made it easier for anyone buying furniture. Many consumers are divided when deciding between online furniture shopping or in-house store shopping. Convenience is the primary reason for favoring online shopping. But a great chunk of the shoppers still prefers going to a physical store to see and feel the product.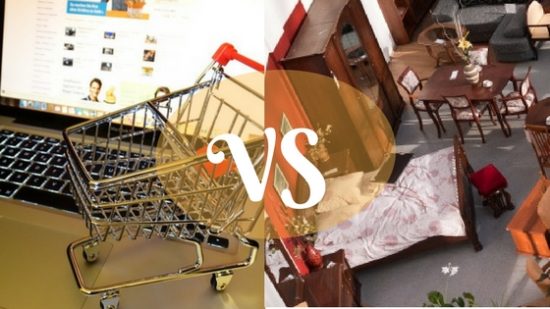 As the popularity of website-based furniture stores grow, the presence of their items makes them hard to ignore. In the same way, brick and mortar stores gain good audience through customer reviews. Let us check out which home furnishings are best bought online and which ones are best bought in-store.
Buying Furniture for the Bedroom
The bed and mattress, being the major considerations when buying bedroom furniture will all look attractive online. The connections, dowels, the level of comfort for the mattress, and the sound of it when lying down on it will only be tested when you actually see and feel it. The risk is high when buying these from online furniture stores unless you know and trust the brand fully well.
When buying beddings and pillows online, only choose the reputable brands. You would rather have bulky beddings delivered to you than having to carry these through the length of the department store, especially if there is none nearby.
Buying Furniture for the Living Room
Shopping for a major furniture item such as a couch or a sofa is no joke. Good thing these days is you can do all the window shopping online. If ordering from online furniture stores is not your cup of tea, you can still browse online for items available on showrooms, which you can visit later. Pricing is a tricky factor. You can find cheap furniture online. They can price the items lower than physical furniture outlets due to the absence of cost of maintaining a shiny showroom with sales personnel. However, only go for reputable stores with good reviews, preferably from someone you know. If you can get a good deal on a sale item and the shipping costs are affordable go for it. If possible, request combine shipping for other items such as a rug, an ottoman, or a chair.
Kitchen Furniture and Appliances
You can purchase most kitchen items and furniture online, unless you want a custom furniture with a specific look. Take advantage of the convenience of online shopping for kitchen appliances such as microwave ovens, blenders, and other kitchen gadgets. Many web stores offer these cheaper than those displayed at the store outlets. Subscribe to online kitchen furniture and appliances sites so you can get updates on the latest sale events if you are not in a hurry to fully furnish your kitchen.
Accessories
When you intend to buy furniture online, you can also find complementing suggested accessories that can blend with your favored decorating styles, unless your tastes are too outlandish. If you search harder, you may just find the right artwork, curtains, and other items that can look great with even the most unique sofas out there. Generally, you can buy accessories practically anywhere. Some of the best and most unique ones are those you can buy from garage sales and estate sales. But if you are going for the more modern and minimalist look, you will find the right one online.
In the end the choice of shopping outlet, whether online or in-store totally depends on how much time you are willing to give to planning and the amount you are willing to spend.