Living in a small NYC condo unit poses a design challenge. We all love to have a cozy living room. The small area provided will extend your creative juices for decorating. You know what? You can still make you room appear larger than it is, and cozier, too. To inspire you, we have collected effective solutions for furnishing a small space.
Measure before you buy.
Take the exact measurements of your space with you when buying furniture for your small space. Measure the dimensions including the walking area so you know you can move comfortably when you set the sofa, chairs, and tables in place. You will not want to end up frustrated when you realize that your chosen sofa won't fit in the living room. In case it would not fit the hallways or elevator leading to your condo unit, you can always call furniture moving service in NYC to work this out for you.
Downsized and Multipurpose
Since a small space can only handle a very limited number of furniture, you will need to maximize what you have. You may not be able to fit a sofa and a love seat in one room even if you wanted to. This will leave you will no room for moving around. Opt for a small sectional sofa instead. It looks stylish and allows for more seating compared to a normal sofa. If you still have room for one or two more items, consider getting an ottoman that doubles as a multipurpose furniture. Instead of a solid side table, consider a hanging hinged table that you can fold when not in use.
Distraction for Attraction
When you have a cramped space, it helps to distract the eyes away from it. Instead of getting a coffee table or center table opt for two identical end tables. The eyes won't normally look at the end tables, and yet, these will still afford you some table space for items or food.
Unifying Spaces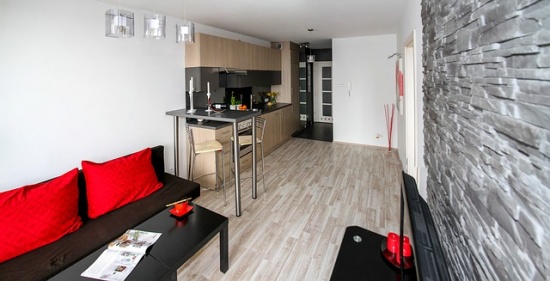 If you live in a studio condo space, you most likely have a living room connected to the kitchen. This calls for some decorating tricks. Be sure to make your designs and decorations cohesive enough to make the appearance of the entire room pleasing to the eyes. Use similar patterns or colors to make each room blend with the other. This design technique will create an illusion of a larger living space because of the extended and unifying effect of the design.
So, there you have it. These are simple techniques and design hacks for small living spaces. You can still enjoy cozy and functional furniture in a cohesive design that will make you space look classy. Always remember to prepare ahead of time before visiting a furniture store. Bring a photo of your space, a diagram or floor plan together with the measurements of the area you need to furnish. Should you need help with furniture moving or customization in NYC, DrSofa a company of furniture experts, is just a phone call away.