Just like fashion, home trends also come and go. Some innovations in design remain while others would rather stay as a memento of a passing fad that defined a year. The home interior design is and expression or extension of the homeowner's personality. These visual elements could also show what's hot, or what's not anymore. Some home interiors look like they just jumped out of a magazine while others exude a more personal touch and create a feeling of welcoming warmth without conforming to any trend. Some are destined to be timeless while there are some trends that need to go.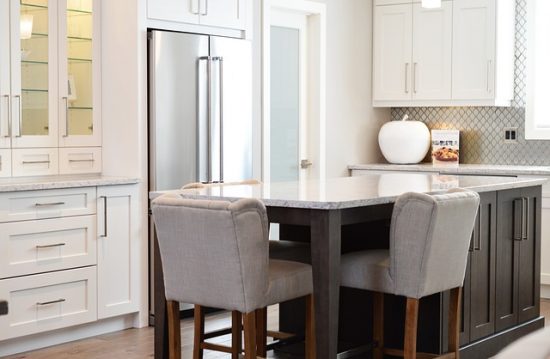 All White Kitchen
Lovers of colors are probably praising the heavens now that finally, the morgue-like all-white kitchen theme should now be laid to rest. What's great about this non-color scheme is that you can easily remedy the aesthetics by adding color to some elements of the room. It is also time to avoid too much appearance of stainless steel. While the stainless steel sinks may not be easy to replace, your kitchen appliances can use a new look. Stainless appliances will make you kitchen look dated. Why not go for the plan black, white, or those with solid colors to give your area a more updated look?
Home Trends and Accent Walls
Designers are divided when it comes to the issue of keeping or trashing the home iconic accent wall. There are statement walls that add character and charm to a home, and then there are elements that ruin it. Take for example the wall stickers. If you still have those cheesy messages adhered to your walls, then it's about time to do a wall makeover. Interior design ideas abound especially with the easy access to information and inspiration online. If you are still crazy about wall decals, update the look with a single, large image in an off-center position or go for horizontal wide stripes.
Out of Place Architectural Pieces
Some architectural pieces work well as a focal point in a room. With correct and careful planning, a Balinese door or an antique window provide a strong point of interest in your home. Sometimes, home décor can do more harm than good. A barnyard door, for instance, may not always work on just any part of your house interior design just because it looked nice in a magazine. Consider home design elements including furniture, floor, and other environmental factors. The use of architectural pieces, particularly those salvage architectural finds is tricky. It can be an awesome move if you know how to pull it off. Good luck!
The wealth of home décor ideas may be daunting especially if you are unsure of what you want in your home. Find time to plan because decorating your studio, apartment, house, or even just your room is not an easy task. It is a good thing to be aware of the trends, but it takes composition skill and discriminating taste to know which ones will work and which ones you should ditch. This is one reason why it can be better and more economical to spend on advice from professional designers, furniture makers, or decorators rather than making a costly long-term D.I.Y mistake.