One way of getting a new look for your interiors for less is through redesigning furniture. People modify furniture for different reasons. It may have crossed your mind to think how one sofa could have looked better if it were made differently. Well, did you know that it can be done? There are practical reasons for doing so:
Keep Your Well-loved Furniture
What better way to keep a piece of furniture with a sentimental value than to use it where it can be seen? However, old furniture tends to look drab or outdated. As long as the frame is intact, you can have it redesigned by an excellent furniture maker in NYC.
From Old to New
Breathe new life into old furniture by changing some of its elements. Dated chairs often look dull, losing its appeal even if they are made from quality materials. Changing upholstery or adding a back cushion to a plain backing can modernize the look of an old furniture.
You Are in Control
Some couches are designed with a general perception of a room in mind. Not all spaces are the same. Sometimes, you fall in love with a sofa and you just couldn't live without it. Unfortunately, it may not fit the intended area. Remember that you can be in control. You can swap parts of a couch from left to right if that's what satisfies your tastes.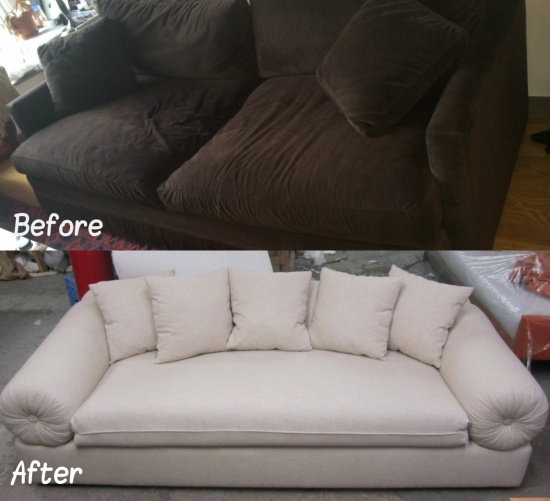 High Quality of Older Furniture
Many older furniture pieces still survive today because they are so durable. Some of them have outlived their former owners. An old chair may just need reupholstery and a fresh paint to transform it from a drab to fab. An old closet cast off due to some broken cabinet doors may look wonderful as an open shelf after a major furniture redesign. Ideas are plenty. Find you inspiration or ask for suggestions from a furniture repair service provider.
It Fits
You can always make your furniture fit no matter what shape of size your room is, When you really love a piece of furniture, there are ways to redesign it. No furniture is too large for a room especially when you get help from furniture experts who know what to do with it. Oversized furniture can be divided and custom-fitted to the shape of any area.
It Increases Productivity
Studies show that good furniture choice increases productivity. This is observed most often in business offices. Boring office furniture can make employees slack. Vibrant colors uplift the mood. A normal employee spends around 40 hours per week on the same workplace. It does get boring if you see the same thing for months or years. For this reason, many businesses redesign office furniture on a regular basis.
Redesigning furniture is not only for aesthetic purposes. These are just some of the practical reasons to do such. You can freshen up your space with new-looking furniture without the expense of buying new furniture. Look around. Redesign your furniture. Need help? Call DrSofa for consultation and custom furniture services.