A leather sofa is an attractive addition to any living room, and because these pieces of furniture tend to be rather expensive, homeowners generally take precautions to try and protect them. Unfortunately, leather surfaces are highly vulnerable to scratches, cuts, and tears, and even the most diligent of homeowners can find that their prized sofa has been damaged. These problems can severely alter the appearance of your leather sofa, but there are ways that you can save with leather furniture repair rather than going out to buy a new one.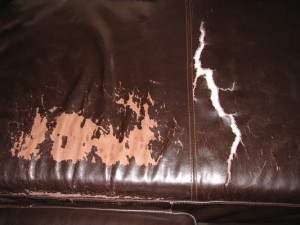 Repairing Stains to Leather Furniture
If your leather sofa has been stained, it is vital that you work to address the stain as soon as possible. Your sofa should be clean, and you should use a cotton cloth with water to try and dampen the stain. Be sure to blot the stain and ensure that the leather surface has time to dry thoroughly before anyone sits on the sofa.
If you aren't able to get the stain out on your own, especially for more stubborn stains like paint or ink, you may wish to consult with a professional leather furniture repair service like Dr. Sofa. For widespread stains, your sofa may be in need of a bigger repair. However, this will still be a less expensive option than purchasing a new sofa, and you'll be able to spruce up your old piece to maintain its character, while also achieving an old-meets-new look.
Repairing Scratches, Cuts, and Tears to Leather Furniture
Even if your leather sofa has suffered from a major cut or tear, attempting to have it repaired will be a more cost effective option than buying new. Light scratches can be buffed away after gently rubbing leather conditioner into the affected area. Major cuts and tears can require a multistep process in order to correct the problem, and in some cases, a new piece of leather or color-matched patch will be needed in order to correct the problem.
Take Steps to Protect Your Furniture
One of the best ways to avoid the repair vs. buy new debate is to protect your leather sofa from the start. Your leather furniture can be damaged by simple wear and tear, pets, or during a move, especially if you don't use an experience furniture delivery service. Follow a few simple steps to protect your leather furniture:
Hire people as movers when relocating your leather furniture to your new home in order to minimize the potential for damage.
Spot test your maintenance products before you apply them to your entire furniture piece by dabbing a small amount onto the leather in an area that is hidden from view. This will let you see the results without potentially ruining your leather sofa.
When not in use, keep your leather furniture covered with lightweight sheets in order to protect it from dust and dirt.
Leather is a durable furniture option, but it is still susceptible to damage. By taking steps to protect your pieces and getting damage corrected right away, you'll enjoy your leather couch for years to come.