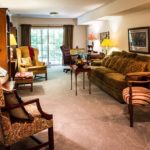 If you're like most people, the holidays have taken a toll on your living room furniture, especially your sofa. Wine stains, cigarette burns, or even rips in your sofa's upholstery can create New Year's headaches and make you rethink your plans to host future parties. It's expensive to buy a new sofa, and slipcovers can look drab and tacky. But there is a third alternative to repair the havoc your merrymaking friends have wreaked on your sofa. You can take your sofa to a furniture pro, who can repair your couch, replace upholstery if needed, or even redesign your sofa, if you'd like a new look as well as a first-rate repair job.
If your party guests were a relatively powder-puff group, and merely stained your sofa with assorted beverages, a furniture pro can give your sofa a thorough fabric cleaning. This service will remove all traces of stains, deep clean the fabric, and if you desire it, the pro can also apply a treatment that will help repel stains in the future. A furniture pro can also address stains on leather, although this service may require a reupholstery rather than a cleaning, depending on the severity of the stain.
If your party guests were a more rambunctious group, they may have left more permanent souvenirs on your sofa – cigarette burns, leather scratches, or even rips or gouges to your upholstery. In these cases, reupholstery may be the most practical repair solution. Reupholstery is a much more economical solution than buying a whole new sofa, and it also gives you the opportunity to play with new fabrics and colors. If you were getting tired of your old sofa anyway, reupholstery gives you the opportunity to change the look of your living room by changing the look of its most important piece. A furniture pro can change more than the fabric – he can even change the style of your sofa by adding or removing arms or legs or creating a different shape to the sofa back. You might be surprised how many different kinds of sofa styles a furniture pro can create out of the same original piece.
Even moving the sofa back and forth is a cinch when you have a furniture pro to help. A furniture pro will simply take your sofa apart, box it up, move it to the shop, fix it, bring it back to your house, and reassemble it wherever you direct. Compare that to buying a sofa at the showroom, and having to move your old sofa out to then move in that new sofa. Or worse yet, buying a sofa at a flea market, and trying to move it home yourself!
There are lots of furniture pros who perform upholstery repair in NYC. No matter what your sofa issues, a furniture pro can take care of them easily, and for less money than you would spend to buy a replacement sofa. A quick call to a furniture pro can bring new life to your sofa – and your living room — for the new year!