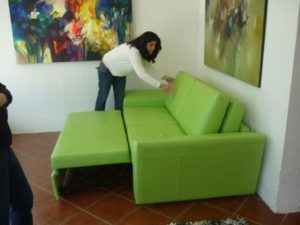 Let's say you're young and living in the city. You don't have a lot of room to furnish your place, and you don't want to sacrifice your living room for your queen mattress. What can you do? At one point, buying a bunk bed may have seemed like your only option. That was before convertable sofas came to NYC and made life easier for twenty-something's everywhere.
Maybe you've got enough space for a bedroom and a living room, but you don't have room for a guest bedroom. You want your family and friends to stay with you, but you can't stomach the idea of forcing them to sleep on your cramped couch or uncomfortable floor. What can you do about it? Buy a convertible sofa.
There are plenty of reasons to love convertible couches. The two examples above are just scratching the surface of this great invention. If you're on the fence about getting yourself a convertible sofa, check out the following reasons why you'll thank yourself for taking the plunge.
Space
A convertible sofa, much like a pull-out sofa, is a great way to conserve space in your house or apartment. If you have guests coming, or you just want your furniture to multitask, a convertible sofa is a stylish and simple alternative to the pull-out couch.
Even if you have room for a bedroom or guest room, buying a convertible sofa will allow the room to have multiple functions when you aren't entertaining or sleeping there yourself.
Storage
Buying a convertible sofa is like purchasing a couch, a mattress and storage containers all in one. It allows you to store anything you want beneath the sofa, while still allowing you to transform it into a bed whenever you need to. Apart from being convenient, getting furniture that has dual functionality helps to save you money in the long run. There's no reason why you should break the bank for furniture that doesn't work for you. It's like buying a custom sofa made just for you.
Sleeping
Old-school pull-out couches featured mattresses that were constantly folded up inside the sofa. They were easily worn-out, and people sleeping on them were subjected to the damaged springs, hard metal bars of the couch, and a very thin, uncomfortable mattress. That is a recipe for a poor night's sleep. Rather than suffer through the night, a convertible sofa provides a thick, comfortable surface for your guests (or yourself) to sleep on. The comfort of the bed isn't limited by how thick the mattress can be while still fitting inside the sofa, so you don't need to worry about making people uncomfortable. If you haven't tried a convertible sofa, you need to try one as soon as possible to see just how comfortable they can be.
If you're considering buying a convertible sofa, take the plunge! Convertible sofas offer furniture solutions for cramped spaces and they're completely comfortable and stylish. Make your furniture multi-task for you and snag a convertible sofa today!