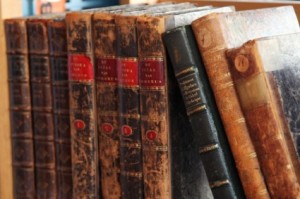 Those with a yearning to be surrounded by literature see the endless beauty in libraries. Filled to the brim with books, they house some of the world's greatest stories and histories of all time. But one does not have to step outside of their house to visit such book collections. Create your own masterful study and you'll have the feel of the libraries you love right at your fingertips.A study, or a room designed for the use of writing, reading, and academic work, is a great addition to any house. If you often read and work at home, this will be extremely beneficial to you. A home office or private reading nook is great for short bursts of work, but larger amounts of work require a unique space set apart from the noise and daily ramblings your house and life have to offer.
The room does not need to be too large, but find a room (or create one if your renovation juices are freely flowing) with plenty of space and a superb atmosphere. This is key. Do not choose an area you are uncomfortable in just because it suits the space. You'll be spending time here doing important work and enjoying some alone time. You can't do that without a tremendous amount of comfort. The area should be away from any intense noises and is best kept at a controlled temperature. Lighting is also of importance. Too harsh a light can be stifling but too soft can put you into a dreamland you make not dare to leave. Aim for middle ground. Find whatever works best for you and your study needs.
Now, traditional studies are typically full of numerous wall units to shelve your prized possessions and books. Consider hiring a professional company to create custom made wall units. Custom made furniture can make all the difference in your house. Don't overload your area with oddly shaped and store bought pieces that are customarily "one size fits all." Each room and area of the room may not be shaped in the same manner and will need a special furniture touch only a professional can handle. You'll save your wallet and your blood pressure a break.
Once you've settled on office furniture such as a sturdy and suitable desk, consider adding a little more furniture flair to your new study. Leather couches will provide the room with a traditional feel. Your study will exude an extraordinary amount of class and classic charm. A custom made sofa can suit all your unique needs. Or why not consult a leather repair service to fix an old chair or couch you are not quite ready to let go. Whatever the case may be, remember this is a private area not only meant for intense study, reading, or work. It is ultimately a joyous place of both comfort and happiness. Create a study room that suits your needs.