The dining room is a place where many beautiful memories are created. It sees you through many shared meals with family, friends, and guests. Whether for daily meals or during holidays, the careful set up of the dining room is a crucial part of interior design planning. Having a dining area does not only means providing a place where people gather to get down to the business of eating. You can do better than this. Create an ideal atmosphere where people can enjoy dining while interacting about their favorite topics or just enjoying each other's company around good food great stories.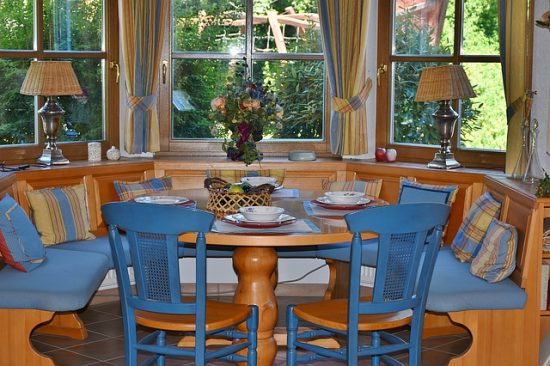 Choose the right color palette.
Using color in a room design, such as the dining area, goes beyond coloring the walls. It involves every element in the room including dining room décor. When choosing colors for your dining room, find an inspiration. Whether it comes from an existing upholstery material, natural colors of the surroundings, or from a palette seen at the paint store, choose a color theme. If you have heirloom furniture that you intend to keep for a long time, work with a palette that complements these elements. Also, consider the size of the room. Would you want it bright or cozy, minimalist or posh? Take your pick.
Versatile Seating for Dining Room
Versatility is the name of the game for many furniture sets these days. A stylish dining room table can aesthetically work with different types of chairs, not only with matching ones. To provide more seating, you may use benches instead of individual chairs or a combination of both. For those with smaller dining areas, use benches or seats that can be pushed fully under the table. Also popular in room décor ideas are seats with storage compartments. You can have a custom furniture designed this way if not readily available at your local furniture shop.
Incorporate different styles / different eras.
Look for inspiration in different eras. This will help you create a more interesting and harmonious look. Depending on your personality, lifestyle, and preferred functionality, choose a specific style era to follow. If you have an open home design style, it would be wise to blend it with the living room décor. If you want a subtle effect, use thematic house decoration elements that will keep the style tied together. This home décor idea can be achieved by using, same upholstery, artwork pieces, or similar furniture styles. If your dining area is in another room, be more adventurous by using a totally different style.
Rug or no rug?
One dining room design issue that gets divided opinions is the one on rugs. Some believe that an area rug is a necessity for floor protection and aesthetic purposes. Aside from keeping the visual elements together in one place, the rug also helps protect wooden floors from scratches caused by furniture legs.
Others are against the use of rugs primarily because this can be difficult to clean if spills happen. Many of the more modern style dining rooms do not use rugs. To protect the floor, they use felt adhered to the bottom of each chair leg.
In the end, it is greatly a personal choice and the level of maintenance and upkeep the homeowner is willing to perform.