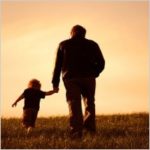 Father's Day is right around the corner and if you're like most people, you are struggling with a great gift idea for Dad. Sure, there's always a gift certificate at a favorite store, a tool that he might want, or even tickets to a sporting event. Every year it seems harder and harder to pick that perfect gift to the man who gave you so much.
A great gift idea, that is sure to show Dad what he means to you, is to fix up that old chair or desk Dad loves so much! You know the one–it's sagging and worn from everyday wear. It's Dad's place to relax. There are many ways to renew Dad's favorite chair. If it's a leather chair or couch, there are many leather seat repair shopslisted on-line and in the telephone book. Perhaps the chair needs a good cleaning or maybe an entire new upholstery job. The right professionals will be the best source of information to begin your project. They can show you what will be required to do a complete do-over of a chair or just patching a leather couch.
Once the chair or couch is repaired or reupholstered, the process isn't over. Don't forget to use fabric protection for the furniture. It's essential to protect your investment against spills, dirt, and every day wear and tear. If you've reupholstered in fabric, a regular light brushing or vacuuming can prevent the buildup of grime that will damage the fabric over a period of time. There are also fabric sprays you can use that will inhibit the soil from attaching to the fabric threads. Leather needs different care. Coated leathers can tolerate a mild soap or damp cloth used occasionally. Many un-coated leathers absorb oils and moisture. Contact a leather specialist to discuss cleaning and stain removal. Wood surfaces on the furniture should be regularly dusted and wiped off with a solution made for wood to prevent drying.
Repairing an old desk, dresser, or other valued furniture piece is another great gift idea for Dad. Make sure the furniture is in sturdy condition. If it's not, some wood glue, screws, or nails might do the trick. Stripping off the finish might be advisable if it's in bad shape and not an antique. Sometimes stripping an antique of its finish diminishes the value. If in doubt, consult a professional. They can help you determine what is needed to repair and renew your old furniture. A professional can guide you to making the piece as good as new.
Dads love getting something from the heart. When you were little you probably made small items and gave them to your Dad for Father's Day. Remember the joy they gave him? They were cherished mementos that he keeps close to his heart. Giving your Dad a store bought item is okay, but why not show him how special he is by renewing his favorite piece of furniture? Imagine the joy in his face when he sees the piece brought back to life–the memory it evokes.
Sometimes, the memories are the best gifts.