Furniture arranging immediately gives your room a fresh look. It changes the mood and flow of your room. Arrange the pieces the way you wish the traffic or energy to flow within the area. If you want, you can even change the arrangement along with the changes of the season. No matter what the size of your room is, you can make it comfortable and visually appealing just by moving the pieces of furniture occasionally. Do not be afraid to try a different arrangement to achieve a new look for your space. There are certain do's and don'ts to observe when deciding on changing the placements of your furniture pieces.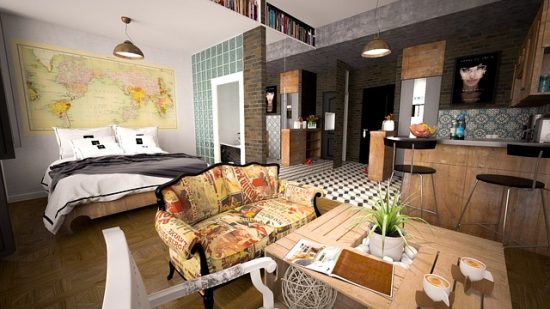 Do – leave a clear path for everyone to move around the room with ease.
Consider the traffic flow when deciding on where pieces of furniture should go. You may have certain positions for your home design in mind. While you are in this mode, think about how you or other users of the room can easily move around the room. Each piece has its own purpose. Sit on a couch, then walk around from there. Where does this position lead you to go? Would you like enough leg room so family members or guests can stay longer facing each other for fun conversations? Measure the spaces. Around 30-inch space between furniture pieces is ideal if you need to move around it.
Don't ignore the architecture of the house during furniture arranging.
The main question here is not only how your furniture will serve its purpose but also how it will work with the existing room design and architecture of the house. Find the room's best features and work with it to make the room look more appealing. Try facing the most used couches or chairs facing the best part of the room. If the area is small, it is often ideal to push large sofas to the wall, but do consider placing seats in the middle of the room to encourage conversations.
Do – add finishing touches to your space that will accommodate guests and those that live in the home.
If you frequently entertain guests in your home, include them in your furniture arranging strategy. You do not need a large space to accommodate guests. You will need efficient furniture planning and the use of multipurpose furniture. Having a large convertible couch is a big plus. Add some more finishing touches such as dual-purpose coffee tables and ottomans that double as seating or food service surfaces. Add house decoration items that will spark endless conversations. Yes, even room décor can be useful for keeping guests feel at home.
Don't let space shrink your furniture – Go big!
Even with a limited space, such as in apartments or studio units, you can still choose to go big with your furniture and interior design elements. An L-shaped sectional sofa, for instance, provides ample seating and yet still leaves you with some room for movement. In a small space, you can also include large mirrors in your living room décor to trick the eye into visually enlarging a room. Visit furniture stores and get some home décor ideas on ways you can go big with your furniture. If none of the showroom pieces appeal to you, you can always go for custom furniture pieces.
Do use accent furniture to separate rooms.
Residential and business spaces with open architecture can still benefit from room divisions without the use of walls. In offices, dividers and shelves are common. At home, you can get more creative by using an accent furniture to separate the living room and the dining room, for instance. One of the notable room décor ideas I've seen is to break the monotony by using a bold-colored couch or a cabinet in a solid color. This way, you are visually closing off space by providing a focal point in between two separate areas of the house.
Don't buy a sofa just because.
Indeed, the first thing that comes to mind when you think of home seating is the sofa. That seals the deal on deciding to buy one. But wait! There should be something more to it than just seating. If you should invest good money on a sofa, why use it just seating alone. Maximize your investment and space use by getting a dual purpose furniture. See if you can get a sofa that can double as a bed or a storage space or even both. Get one or have one customized for your needs and comfort.