2020 Trends in Furniture Design
In 2020, there's no question that you're going to want your room and office to look beautiful and classy. Furniture is the best way to transform an ordinary room or office into an eye-catching place. However, a lot of creativity is required to actually pull it off. The Furniture trends 2020 continues to change with the passage of time. We are living in an age of modernization, so we must adapt to modern designs.
The new and unique furniture design trends of 2020 will be one to remember. In this article, we'll be talking about some of the best furniture design trends 2020 has to offer.
The Preferable Design Styles in 2020
Nature in Furniture
The trends in the furniture will change in 2020. Today, people are looking for private and collected spaces for living. Natural materials are used in creating furniture while keeping the privacy and collectivism in mind.
Nowadays, furniture designers are keen to use wood, fibers, and other natural materials in the construction of furniture.

Green Furniture
Eco-friendly furniture is one of the most trending designs at the moment. In the upcoming years, we will see more green furniture in our living rooms and offices.
Rattan and Wicker
Rattan and Wicker are coming back around. You will see a more perfect balance of modern and traditional styles in these kinds of furniture.
Sculptural Furniture
Boucle, boiled wool, canvas, sisals, and natural wood are being more commonly used in the construction of sculptural furniture. Cheryl Eisen, a member of the Interior Marketing Group, said, "Sculptural furniture will continue to grow in 2020."
European Touch in Furniture
The German and Italian influence on furniture designs is starting to trend. By the way, they will continue to move up in 2020. Marie Flanigan of the Marie Flanigan Interiors said,
"I am seeing the traditional furniture brands embracing the European influence."
Be prepared to see more cultural designs in the upcoming year.
Form, Color, and Materials Trends in Furniture Design 2020
The form, color, and materials are the building blocks to making furniture attractive. Here are some key trends to look out for:
Color trends include the use of gray, pink, green, purple, violet, blue and lilac. More designers are starting to combine new colors together to come up with new options. A perfect example of this is a mixture of green and pastel pink.
As you know, Pantone's Color of the Year is classic blue. It's a great accent color that shouldn't be prevalent in design. It takes much attention because of its depth and tranquility. But by using in detail, you may turn your room into a cozy place soaked with warmth and freshness.

Material trends include the use of dark wood, vegetable fibers, leather and metals. Wooden furniture is by far the trendiest in furniture design of 2020. For example, the combination of wood and metals is becoming popular.
2020 Wooden Furniture Trends
Needless to say, wood is one of the most commonly used materials in the construction of furniture. Modern furniture designers simply cannot keep wood out of their designs. The following are trending for wooden furniture:
Dark Wood
Oxidized Oak wood furniture
Mahogany and Teka wood furniture
Cherry and pine wood furniture
It's expected that wooden furniture will remain trendy in 2020 and more years to come.
Trends in Upholstered Furniture 2020
Upholstered furniture is quite relaxing. Besides, you may use of cushions with foams to add even more comfort. These are the top trends for upholstered furniture in 2020:
Light-weighted furniture
Neutral upholstering
Dreamy upholstered beds
Relaxing and multifunctional unholstering
Business Furniture Trends 2020
Business furniture must be relaxing and easy to handle. Clients and other business partners must feel comfortable during any business discussion. Here are business furniture trends to look out for:
Steel and Plastic made furniture
Leather chairs with seat upholstery
Less wood more steel and upholstery
Metal desks
Refresh, don't throw away
The unusual trend for this year is to think about ways to give your furniture a new life.

And Dr.Sofa is the one who is an expert on that. Reupholstery is the answer.
Eventually, you can give a totally new look to old furniture with the help of the reupholstery. Here are the top reupholstery trends of 2020:
Yellow Mellow
Mathematical Shape
Use of patterns
Cassis Color
American design
African Design
European Touch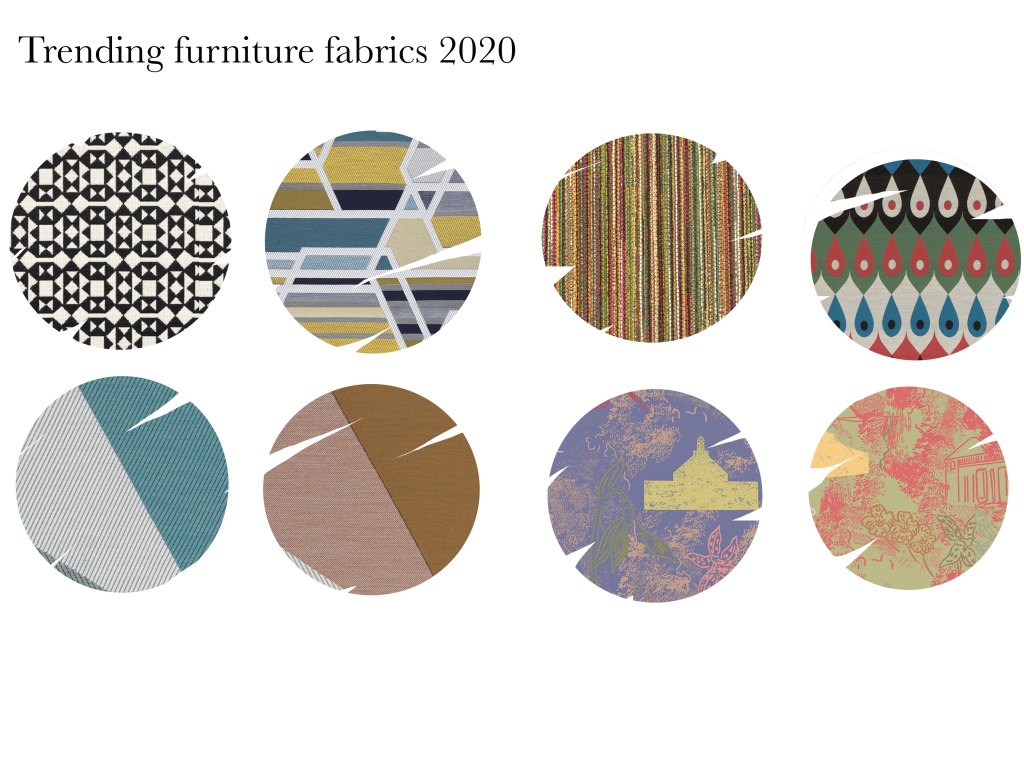 How to implement the latest décor trends in living room
As you know, everyone wants their living room to look nice since it's the most common room to be in. That's why you want it to be relaxing but still appealing in terms of design.
There are several ways you can implement the latest décor trends in your living room. If you don't want to do the work yourself, consider hiring an interior designer or purchasing a premade décor set from a vendor. Otherwise, here are some décor trends you can implement yourself:
Sectioning. For start, you can section your living room using furniture so that each part of the room is designed for something different.

Nesting tables. An intriguing design trend you can implement is with the use of nesting tables. In short, nesting tables when expanded can be the size of three full tables.
When stacked together, the tables will take up the size of one. Use nesting tables to make your living room space appear larger when necessary.

Maximalism. Instead of having a minimalist design approach, design your living room to showcase your personality. Use a unique color scheme that suits you, and fill the space with items you treasure.