The sofa is what many consider the epitome of comfort. From the most basic loveseats to the most luxuriously designed couches, the sight of a sofa invites you to rest and relax in its cozy seats. Throughout the centuries, this well-loved piece of furniture has evolved to many forms, but the function remains the same. Have you ever wondered how a sofa is made? Let's take a peek at the process.
Making the Sofa Frame
The initial process involves the construction of the frame. It typically consists of wood, but a combination of materials are used as alternatives. The wood should be thick and sturdy enough to endure heavy tension and weight. From this frame, the foundations for the back, arm, and seat cushions are attached. Expert craftsmanship is required.
Webbing and Springs
The furniture maker then interweaves a burlap material to form a webbing. They tack this into position for both seats and back area. Springs will then be placed individually and securely. Once all springs are set in place and tied off, each part of the sofa will be secured with its own burlap sheet.
Placing the Padding
The intricate sofa-making process continues with the setting of the padding material. The padding is tacked in its place and stitched down. It is at this point when seat divisions are done. Everything from point onwards is made by hand. Thicker layers of padding follow until the sofa is shaped and padded to perfection. A sectional couch, for instance, will be padded in a slightly different way to a Victorian style set. Sofa beds, sectional sofas, and sleeper sofas, have their own unique padding forms.
Upholstery Fabric
Upholstery work begins after padding is secured in place. Each panel is measured with the right size of fabric or upholstery material, then sewn into place by the craftsmen. This meticulous process will make or break the general look of the sofa. A decorative strip made from cord-stuffed fabric with the same fabric or matching design is sewn into the outlines of the chair. This is called welting. In the case of leather sofas, leather material for upholstery and welting is used. It gives the piece a finished look.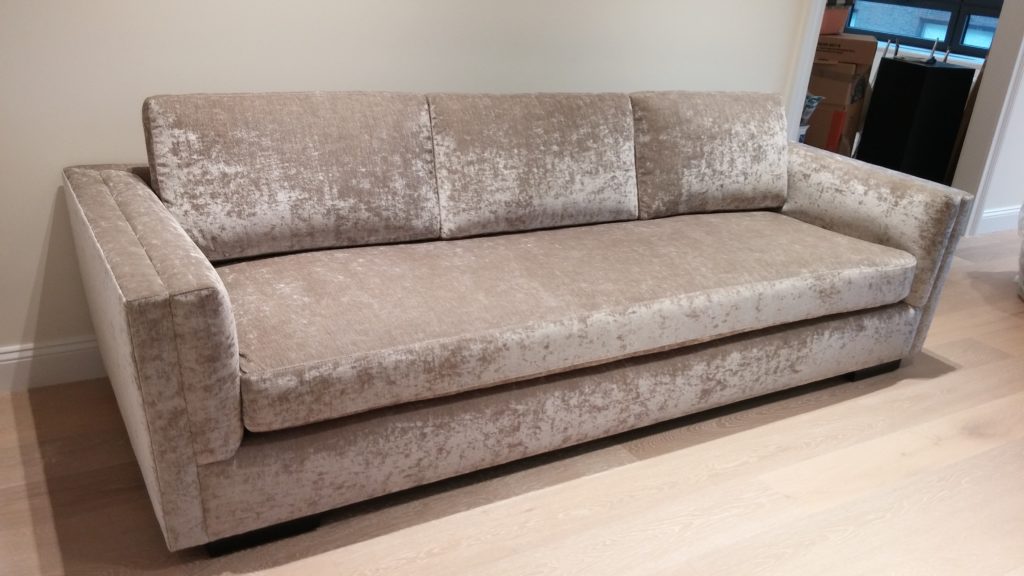 Finishing Touches
Lastly, it's time for the finishing touches of the sofa surgery. This includes covering the base with a material to serve as a dust cover. Separate cushions may sometimes be covered with fabric panels. Depending on the design, some are installed with skirting material.
Furniture makers such as Dr. Sofa train craftsmen with the highest sets of skills and workmanship levels. All these efforts are for every sofa user's comfort and years of enjoyment. The intricacies of the couch making process makes every quality piece an investment worth making. If you have sofas needing assembly or need disassembly of a sofa, trust only the company with years of service and great reviews. Dr. Sofa is here to serve you.