A futon is a hybrid piece of furniture that can be used in the daytime as a sofa, and at night as a simple bed, because it easily folds flat. It's a nice piece of furniture to own, because if you don't have a guest room, you can unfold the futon in the den for your overnight visitors. A futon is also easy to assemble/disassemble in a move. It's relatively lightweight and has simple components that can be taken apart with a wrench and pliers. This makes a futon distinctly different from other heavier pieces of furniture that are best moved by professionals who know how to properly disassemble pool tables, book cases or couches. A futon can be disassembled into small pieces and easily transported with minimal risk of damage (or injury.)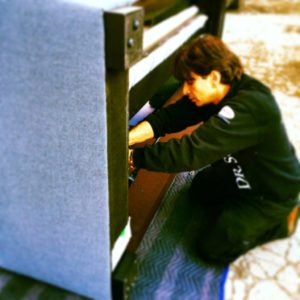 A futon sofa disassembly can be accomplished with a wrench, pliers and tape. If you plan to move a futon, this link shows you how: first, you should remove the cushion covers, and place them in a large plastic bag or protective cover. Next, begin systematically loosening and removing the elements that connect the frame: the nuts and bolts of the arms, and the transmission clips that hold the back decks together. Once the elements of the sofa are disassembled, tape them together, cover them with cardboard and wrap them in a moving blanket. If your futon is of an average size, you should be able to easily carry its disassembled pieces on a residential move.
Assembling a futon is essentially this process in reverse. There are many resources, such as this You Tube video, that demonstrate a successful futon couch assembly. If you don't want to do this yourself, you can contact a furniture pro, who can safely disassemble your furniture, move the pieces to your new home, and reassemble them wherever you direct. This is also a useful service to remember if you have large, heavy pieces that might be difficult or dangerous to move yourself, or if your new home has small entryways that your furniture might not fit through without disassembly. In any case, a sofa disassembly is easier than carrying an intact sofa up a flight of stairs. And pool table disassembly is almost mandatory, as a pool table weighs hundreds of pounds and can easily cause injury if not moved professionally. The money you might save by moving heavy pieces yourself, has to be offset against the increased risk of dropping or damaging them – not to mention, the risk of you, or a friend, getting a sprained back or broken hand from a mishap.
It's unusual to need only one piece of furniture, such as a futon, to be moved. If you only have to move the futon, you can do it yourself with the help of a friend or two. But if you're moving all your household goods, it's wise to consider the services of a furniture pro. A move is much easier and faster when even your heaviest and most awkward pieces can be disassembled, transported, and reassembled by someone else.