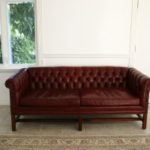 Moving can be a significant transitional process in a person's life. It is important to approach this event with positive energy and confidence so that you can settle in right away. If you're moving into a house or apartment that is already furnished, you may or may not be thrilled with the appearance and quality of the furniture that greets you. The good news is that furniture that's not just like new can be repaired and customized, and it is more affordable than buying brand new furnishings. So how do you get the attractive and personalized space you've always wanted?
Dr. Sofa®, The Furniture Surgeon, offers exactly what you need to transform and personalize your furnished home. They are experts in sofa repair for NYC, because they understand that many American furniture designers and manufacturers produce furniture primarily for use in houses, and not for the narrow nooks and tight corners of Manhattan apartments. In addition to sofas, they provide excellent repair and restoration service for tables, chairs and more. Leather repair and repainting is also offered for beautiful pieces that need some extra TLC, like leather chairs. For a more convenient move, they offer the service of disassembly and reassembly for sofas, wall units, entertainment centers, beds, pool tables, office furniture and more. They also provide reupholstery service for all general furniture, as well as headboard and cornice board reupholstery to update its style.
To really make a furnished space feel like your own, customization is a must. Dr. Sofa® allows you to design your dream furniture with their Custom Made Furniture Services. They can refinish anything in the color and/or type of wood of your choice.Sofa fabrication, for example, is a great option if you find a comfortable, space-appropriate sofa in a color or pattern you don't absolutely adore. Simply choose a fabric that suits your taste, and customize your piece. This is a fantastic way to save money! And the cherry on top of all of these sweet services is the Furniture Fabric Protection Service: an invisible protective shield makes it harder for spills to become stains, keeping your furniture looking beautiful for years to come.
An already furnished living space can seem like a difficult project, but it's not when you have help from experienced professionals who specialize in furniture repair for NYC. They will restore, repair, take apart, put together, reupholster and fabricate the furniture in your home until it feels like yours. Soon, with the help of Dr. Sofa®, there really will be no place like home … your home!