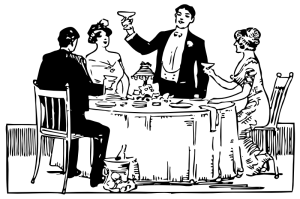 Every house has its own personality, right down to each individual room. From reupholstering furniture to custom tables and chairs, homeowners have a lot of decisions to make to morph each room into the look they desire. The dining room usually serves as the focal point of a house. This particular space becomes the center for producing countless memories from beloved family feasts at the holidays to raucous reunions with friends. Below are some tips for maintaining the dining room that will help any homeowner put their heart back into the home.
The dining room table is the glue that holds the room together. It serves a multitude of demanding functions, so something durable and strong would be ideal. Styles vary from glass and wood, but wood is still the most popular and most affordable. Beginning in the middle ages, the round table emerged as a popular piece of furniture. This can generate a friendlier atmosphere while thinner and more narrow tables give the room a more formal setting. A table needs to be able to handle the wear and tear of time so finding something sturdy and fashionable will unite all the design elements you are looking for.
Color for the tables will also help build the rooms personality. A soft, cream shade such as a super white or little angel can create an intimate but light setting for that college friend reunion while a darker shade with a blue hue can establish a look for more somber affairs. While the furniture sets the tone, colors can set the statement.
For chairs, there are numerous outlets to choose from. Whatever ideas that a homeowner has for the table will either be successful or fail completely based on the choices made for the chairs. One major drawback when purchasing chairs from a big box retailer is that you need to consider their inventory when designing your dining room. If you decide to utilize a professional and get custom chairs created, that worry can be eliminated and a whole new world of design possibilities opens up.
Tastes can change over time so redesigning your dining room can shift based on what you desire as you grow older. A table meant for quiet dinners can evolve to support additions to a family. Of course, factors such as price can impact what you are looking for so the most important thing to remember is cost and color. There are multiple interior designers from NYC to LA but developing a plan to fit your unique style can be difficult since these prices can vary. Ultimately, look for something that will you put your own personal taste into your humble abode.