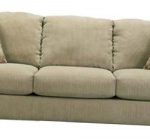 Have an old couch or chair you once loved that now has faded or absorbed years of wear and tear? We all have either those favorite pieces of furniture that have become damaged or worn over time. Or perhaps, you have some furniture that is in great shape, but just doesn't fit the style you'd like to display any more. What if there was a way to renew your old furniture instead of getting rid of it and spending thousands on new sets or pieces?
Lauren Marcum of Upper Arlington, Ohio is the queen of renewing, restoring, and refurbishing old furniture—and she has actually created an entire business out of it. She always loved seeking out old and unwanted chairs, tables, lamps, couches—you name it—and giving them new life by completely overhauling each piece she finds. A little over a year ago she turned her hobby into a career.
As of June 2013, she's refurbished over 100 different pieces of furniture. She collects the old furniture from garage sales, flea markets, and even the side of the road. After she completely repairs and refinishes a piece, she resells it in her newly opened retail shop, Columbus Furniture Revival. And amazingly, she never pays more than $60 for a new piece—and much of the time she pays nothing. Then, after all her hard work, she turns around and resells her made over pieces for anywhere from $25 to $400. That's quite a turnaround.
While Marcum has made her hobby into a career, you can achieve the same outcome with your furniture without all the hard work! If you want to restore your leather couch or renew your old furniture, seek out a professional restoration company that can accomplish this for you. Before you get rid of that dining room set you're sick of—do some research into the style you'd prefer and more than likely the professionals can accomplish anything you envision.
Even better, you can start "dumpster diving" and searching garage sales and flea markets for unique, rare, and fun finds and then have them completely refurbish by a furniture specialists! There are so many pieces of old furniture out there that just need some TLC. Plus, you get to bring home something totally exclusive to you and your home!
If you find an upholstered piece of furniture and you love the shape or other features, but hate the fabric, there's a very simple solution for you: reupholstery. There are some very talented reupholstery companies in NYC and around the United States that can do complete overhauls of your upholstered furniture. You can change the fabric, color, or pattern of any sofa, couch, or chair you own. This will give your piece a completely fresh and new look. And you'll feel like you went out and purchased brand-new furniture!
Once you've found a unique piece you love and had it refurbished, be sure to ask your furniture specialist in New York or beyond about fabric protection. You can extend the life of your reborn furniture with some simple preventative measures!