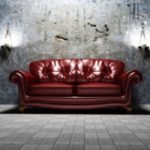 Like anything, all furniture ages over time. Wear and tear from normal use and the occasional accident, such as a rip or spill, can quickly turn your leather furniture into an eyesore. Instead of replacing worn furniture; save your money and the environment by considering leather furniture repair.
Furniture is often the centerpiece of a room, especially the rooms where most of your time is spent, such as the family room or living room. Designing a room, finding the right furniture, and then decorating takes a lot of time and effort! Since you have taken the time and care to find the right piece to fit your home décor, shouldn't you take the time and care to repair and extend the life of your investment?
Many people don't realize how many furniture repair options there are today. In fact, many people think that if a piece has been damaged in any way, it is time to replace the furniture altogether. The reality is a good furniture repair company can repair just about any damage imaginable. Superficial damage or wear to the leather upholstery can be remedied in many ways such as repainting if the leather has faded, removing tough stains, repairing rips or tears, or even just replacing the upholstery altogether. Sagging cushions can be replaced or fixed. Structural damage can be repaired as well; broken legs or springs can be replaced. If you think you're in need of a new couch, do yourself and the environment a favor by first having a furniture repair company come in and take a look at any damage and give you an estimate on repairs.
Furniture is an expensive investment you make in your home, by repairing furniture instead of replacing it, you are saving yourself hundreds, if not thousands, of dollars every time. Even if you have decided that it is time for a new look altogether, you can use the structure of the leather couch or sofa and have a good furniture repair company redesign the piece for you. If your couch or sofa is structurally sound, you can also change the look completely by having the furniture reupholstered. The options truly are endless!
In today's world, eco-friendly furniture is the way to go. The manufacture and production of new furniture takes a toll on the environment with the use of natural resources and release of greenhouse gases during production and transportation. Take care to be an environmentally friendly home by checking out alternative options to purchasing brand new furniture.
Another great aspect of leather repair services are the preventative options good furniture repair companies offer. Protect your investment against future wear, tear, and fading by having your furniture regularly cleaned and treated with leather conditioner. Leather treatment keeps your leather looking new and helps prevent the leather from cracking and fading due to use and sunlight.
Take the pocket-friendly and environmentally-friendly route with your furniture: fix your leather couch instead of purchasing a new one