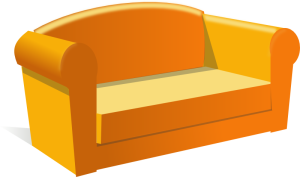 Oh, the shame of it. On moving day, you delivered all of your things to the new apartment except for one of the most important pieces – your honking sofa. So you and your buddies lifted it and lugged it up to the third floor.You almost didn't get it around the corner, but you made it.Then you tried to carry it into your new apartment, and found you were shutdown by the doorway. You were stuck! No matter how you pushed, pulled, squeezed or lifted, the sofa just wouldn't fit. To make matters worse, your new neighbors were attracted by the commotion and now you're famous. And not in a good way. You even overheard one of them saying: "Hasn't he ever heard that there are people who disassemble furniture?"
Yeah, that was painful. Especially since it was true – you found out later that there are plenty of furniture movers in NYC who take sofas and other heavy pieces apart, move them, and then put them back together again at the new place. Going that route would have been faster, safer and way, way easier — especially on your friendships. Because when your buddies put two and two together – well, let's just say that it's a good thing you won't be moving again any time soon. One of them even hurt his back trying to push your sofa through an opening that was three inches too narrow. You just hope he won't be sending you a bill for his adjustment.
You could have saved yourself so much stress — and social stigma, as well. You're starting life at your new place as "that guy" in 3A who blocked hall traffic for hours. If you had gone with the disassembly service, you could have watched the whole process while sipping something tall and cool, instead of struggling up three flights of stairs and risking a hernia. As it stands now, you're still tender in places you didn't know you could hurt, and your neighbors haven't spoken to you yet.
Disassembly also would have given you more space on moving day, with no big couch to climb over as you unpacked your stuff and placed your other furniture. Going with a couch disassembly service at the beginning would have been so much more economical. It would have been so much easier just to have gone to the furniture pros in the first place. Next time, you will. But for now – well, you're just going to have to live this down.