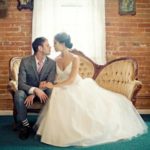 Rather than giving the bride and groom money, give them a custom couch they will love, laugh, and live in.
Summer is many things—a time to get outside and enjoy the beautiful weather, take a vacation with the family or just to sit back and relax. But for many folks, summer is wedding time! In the United States, summer weddings are chosen over any other season. And considering that more than 2.4 million couples get married every year, chances are you're invited to a wedding this summer or will be sometime over the next couple summers!
While most couples register, they often choose the smaller household items on their registry. Things for the kitchen like dish sets, cookware and silverware. All of these items are great for starting a home, but often the couple really could use some bigger items! These days a lot of couples live together prior to getting married, but some still go the traditional route and move into a new home together after marrying. And even those who live together before, many will purchase a new home over the next few years. When moving into a house, it can be daunting to furnish the new space! It can get very costly, especially if you just purchased the home.
Any couple would be incredibly grateful if a guest went above and beyond and bought a high ticket item like a couch or a beautiful bed frame, but there's always the risk that the furniture or sofa upholstery won't fit with the couple's décor, style and taste. Why not gift your good friend or family member with custom made furniture? This can be the perfect solution.
Instead of picking out furniture for someone else, you can offer to pay for a custom made piece that they're bound to love, because they'll have all the say in the design and creation! You can also extend a gift of custom slipcovers for an existing couch or sofa. This way they can change the look and feel of their family room or living room when it strikes them. You could even put together a "furniture kit" and include things like couch stain remover or a gift certificate for couch cleaning. The options are endless. Reach out to a furniture repair and refurbish company and explain your ideas, any quality company in NYC or beyond will be able to get you what you need, whether it's custom slipcovers or a custom bed frame.
If you are worried about the new couple fitting a furniture piece in their home—especially in the sometimes tight quarters of NYC—you can always opt for a sofa disassembly service. These services can professionally take apart and put back together any piece of furniture without damaging it.
This summer wedding season celebrate your friends or family who are going to be enjoying upcoming nuptials with a custom made gift. It's guaranteed they'll never forget it and will cherish it for a very long time!