Do you have a furniture piece that needs to be repaired? Don't try to do the job on your own. Contact a furniture doctor at Dr. Sofa if you are in need of any of the following repairs or services.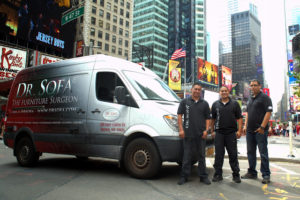 Your Furniture Doesn't Fit into Your New Space
If you are moving to a new home, it may be distressing to learn that your large sofa won't fit through the front door or that there simply isn't space for it in your new living room. This doesn't mean that you need to throw out your old items and run out to buy smaller pieces, but you should consider giving a furniture doctor a call. Furniture disassembly services are available in order to safely take your furniture pieces apart for transport, and once you arrive at your new place, they can be reassembled. Likewise, your piece can be altered so that it can fit into your new space.
Your Sentimental or Valuable Piece Needs to Be Repaired
If you have a piece of furniture that is extremely special to you or is simply worth a lot of money, you don't want to risk trying to repair it on your own. There are a lot of things that can go wrong, from tears in upholstery to leather discoloration and stains. It takes a lot of expertise, skill, and training to become a highly-qualified furniture repair professional, so your best option is to contact a furniture doctor to ensure that the job is done right.
You Need to Repair Leather
Leather furniture is one of the most difficult materials to repair, and when your leather chair or couch suffers damage, you can be extremely frustrated considering the cost of the piece. However, you shouldn't rush out to buy a leather repair kit to try and fix the item on your own. Repairing leather correctly will take practice, and if you don't know what you are doing, you can cause even further damage. Likewise, attempting to repair leather furniture on your own could cause issues with color matching and may result in staining, but you can prevent these potential problems by contacting an experienced furniture repair professional.
You Want to Redesign a Vintage Piece
If you are interested in coming up with a new design for furniture pieces in your home, a furniture doctor is a great resource, especially when the pieces are older. An experienced professional will know how to make the necessary changes to a piece while being careful to not damage old and potentially fragile items. A furniture doctor can also provide you with helpful design tips and ideas regarding what could best match with the rest of your décor.
You Want to Reupholster and Old Item
Vintage furniture reupholstery can be a big job, and it is one that is best left to a professional. It can be a challenge to find the right fabric, and if you try to do it on your own, you may not choose colors that match correctly. You may also select a fabric that isn't durable or that doesn't work well for your lifestyle. Likewise, many consumers aren't aware of what can actually be done to improve their existing furniture pieces, and by hiring a furniture repair professional, you'll be able to give your item a unique and updated look.