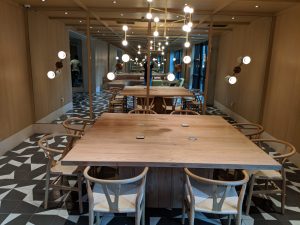 Credit to AdamAmerica : https://308n7.com/
Paris Forino : https://www.parisforino.com/
Custom Lobby Furniture With Modern Elements
N7 Williamsburg Residences has the most exquisite mixture of classic touches and modern elements.
Evidently, the project was really significant, as well as extremely exciting. The Amazing team should turn to live the ideas designed by Paris Farino.
We were dedicated to multiple locations within the building. Most of the custom lobby furniture and leather furniture was manufactured by AMAZING (B2B Furniture Design by Dr. Sofa).
This is to say, complex projects always require a sound approach and cooperation on all phases of execution.
Stylish Custom Sofa Decoration
First of all, take a look at the elegant mix of the soft grey semi-oval sofa and pale pink coffee table. It has a simple style. But it's hardly ever as easy to turn the idea into reality.
Without a doubt, we were striving to perfection while customizing this semi-oval sofa. We used Oink Onyx Marble to make the octagon tabletop of a coffee table. It is a very rare, impossibly beautiful and tender material.
The main aim of manufacturing children's furniture is not about making it bright and attractive, rather assure it is safe for kids of any age.
More importantly, for this project, the furniture in the playground area is painted with toxic-free materials and has no sharp corners for the safe kids' use.
Surely contemporary businesses are demanding a high-tech approach. With attention to it, in N7 Williamsburg Residence Business Center, we have equipped the Conference tables made with reclaimed Oakwood that fully meet these requirements.
Finally, we added pop USB, power connects, and Mobile wireless charges installed in the tables for comfortable and quick use.
What Customers Say About Us:
We hired Dr. Sofa to fabricate and install custom lobby furniture for our luxury condo building at 308 N7 Street in Williamsburg.
Renowned interior designer- Paris Forino, designed the furniture. This was our first time working with Dr. Sofa. The main challenge was the large size of the pieces.
Shlomi and his team were able to have a constructive dialog with us and Paris team, suggesting materials that are durable but yet luxurious.
Certainly, the result was nothing but mesmerizing, and the furniture was a strong selling point of the building.
Shaul Goldklang
Adam America Real Estate
850 3rd Ave. Suite 13-D, New York, NY 10022
F: 347.772.3461
O: 646.439.6000 EXT 619