Any empty room can be extremely intimidating when you move into a new home. It can be a real challenge to make your furniture pieces work well in a new room, especially if you are moving into a considerably smaller or larger space. While the ideal arrangement of furniture will depend on the layout and size of the room, these tips can help to send you on the right path.
Combine Furniture Pieces and Accessories of Varied Sizes
According to HGTV, it is important to mix furniture pieces and furnishings of various sizes. Each object will have a different depth, width, and height, so incorporating a variety of pieces featuring different characteristics will make your space more visually interesting. However, you should remember that sizes should be proportional and of a similar style. If you are attempting to create a rustic living space, your furnishing volumes should also be serene and unchallenging, and you can pair a large sectional couch with small side tables and armchairs.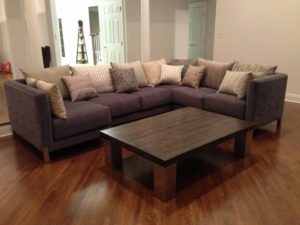 Make Your Living Room Furniture Conversation-Friendly
Your living room will likely be the main social space in your home, so it is important to arrange your furniture in a way that will make your guests and family members feel comfortable. Better Homes and Gardens explains that a no-fail arrangement trick for a living room is to arrange the space for a conversation, so seating options should be placed no more than eight feet apart. If you have a large space, place your sofa and chairs in a way that creates comfortable smaller islands. Place a group of chairs and side tables at one end of the room, and face two sofas toward each other at the center of the room to form two separate conversational areas.
Conquer Your Small Space
If you have a small room that you are looking to redesign, there are a variety of great tips to make your home more spacious. First, you should be sure to remove the clutter, and you should buy pieces that maximize your wall space. In your bedroom, be sure to choose a dresser that is appropriate for the size of the room, and consider creative and multifunctional storage options. Bookshelves, wall units, and decorative baskets are a good way to hide small items that you don't want seen.
Plan for Foot Traffic
When arranging your furniture, it is important to consider the foot traffic that will occur within a room. According to P&G Every Day, you should be sure to set up specific traffic patterns that will allow your family and guests to easily maneuver around furniture pieces and get from one room to another. For example, you should allow for about three feet of space between pieces that you'll need to walk around. On the other hand, the sofa and coffee table shouldn't be more than 18 inches apart so that drinks are always within reach.
Focus on the Entertainment Value
In any room, it is important to consider your entertainment options. In your living room, you'll want to make sure that your TV screen faces away from sunlight, and a standard viewing distance from seating to a TV is typically 8-12 feet. Again, you should be sure to consider traffic flow, so make sure that you are creating traffic paths that move behind TV viewers rather than between them and the screen. Proper shading and accessories may also be needed to prevent glare.
Find a Focal Point
When arranging furniture in any room, it is important to find a focal point. If your space has a window with a great view or a fireplace, try and place your furniture pieces around this area. This will help to draw the eye to that particular space, and furniture moving services can help to safely arrange your larger pieces around this center point.
Avoid the Perimeter
Furniture expert Bob Vila suggests that avoiding the perimeter of a room when creating your layout design is essential. By placing your furniture primarily against the wall around the outside of the room, you'll create a stagnant look. If you have a small room, you can certainly place a large piece like a couch along the wall, but be sure to float smaller pieces like armchairs in the middle of the room to create a feeling of balance.
Use a Simple Design for Your Dining Room
Your dining room design should be simple. You'll want to place the dining room table and chairs within the middle of the room so that your guests can move around the table comfortably. If you have a hutch, chest of drawers, or console that you would like to add, place it along one wall of the room. This can provide for much-needed storage for flatware, china, and linens.
Add Pieces for Comfort
When arranging the furniture in your bedroom, add furniture pieces that are going to make your space feel more comfortable. You may want to place a cushioned bench at the foot of your bed or a chair near a bedside table. If you don't have a ton of extra space, consider pairing a chair with a small stool that can serve as a table without taking up much room.
Consider Arrangements for Awkward Spaces Wisely
Midwest Living offers a variety of great furniture arrangement solutions to deal with awkward spaces. For example, many homes have rooms that are plagued by strange nooks and crannies. To deal with this, you can create vertical lines that will lift the eye, providing an illusion of more space. Add freestanding or built-in bookcases to fill up space fragments while adding more storage. You can also put corners to good use with a tall cabinet or interesting plant.
While there are no hard and fast rules when it comes to decorating and furniture arrangement, there are basics that you should consider when laying out your space. If your pieces don't fit with your current space, the advice of a professional furniture doctor or designer can give you helpful tips on how to make your pieces fit with your new room or home.