The idea of upcycling started to gain traction within the mid-90s, and it involves putting new life into an old item in order to make it creative or useful. Considering how expensive many furniture pieces are, this is a great concept to use with your old pieces rather than throwing them out. If you are interested in repurposing your old furniture, use some of these great ideas.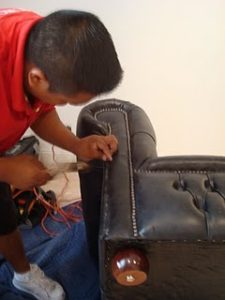 Give Your Sofa a Makeover
Do you have an old sofa that has seen better days? Your sofa can be deceiving, as it may be a few decades old and looks like it needs to be replaced, but a few upgrades can actually make it look more modern, fresh, and up-to-date. First, try having your old sofa professionally cleaned to get the stains out, or if the old fabric simply doesn't match with your new décor, consider having it reupholstered. A slip cover may also be a great and affordable option, as there are options available in a variety of great colors and textiles, or you can have one custom made. Also, sofas don't have to be restricted to just the living room, as a professional furniture redesign service like Dr. Sofa can repurpose your piece to make it fit with your bedroom, office, or family room décor.
Repurpose Your Old Dresser
Do you have an old dresser that has been plagued by scratches and other damage after years of wear and tear? Consider repurposing the item to fit with your home. One of our furniture doctors can help to refurbish wooden furniture, giving new life to an old piece.
When upcycling an old dresser, you don't have to choose neutral or traditional wood colors. Consider a unique coat of paint like a chevron design or geometric blues in order to create a statement piece for your space.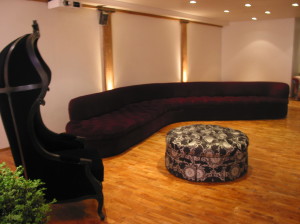 Get Creative with Your Ottoman
An ottoman is a great addition to your living room, and since there are several ways to upcycle old items to create an ottoman, you won't have to go out and spend a ton of money on one. Here are a few great ideas:
Do you have any vintage milk crates around your home? If not, they can easily be found at a local flea market or antique store, and by adding a reupholstered cushion to the top, they can become an adorable ottoman full of rustic charm.
An old drawer can also be used to create an ottoman, providing you with a comfortable place to rest your feet without having to spend a fortune. A little batting and an interesting fabric stapled to the top can make the transformation complete.
Industrial wood spools also make great ottomans, especially when wrapped up in foam and a vintage fabric. A floral ottoman can be a good addition to your bathroom, while adding some foam cushioning and a soft blanket can create a fluffier option for lounging on the couch.
If you need tips for mixing old and new furniture for your home, a professional can provide some great ideas on how to make your pieces work for your space. Get ready to give your old furniture a new lease on life.