If you have a basement that's essentially a waste of space, why not turn it into something that will enhance your enjoyment of your home – and possibly, the value of the house? A basement renovation/makeover can turn a 'storage unit' basement into something really special. And since the basement is often one of the only rooms in the house to have a separate entrance, it's perfect for a fun hideaway, in-law suite, or party room for entertaining. But before you call for sofa delivery, take a look at these five fab ideas for decorating your basement. Get the most enjoyment possible from your house!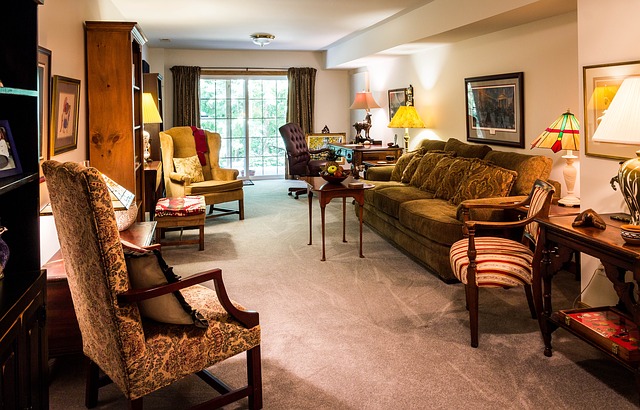 The Walls
A basement may or may not have windows. If yours does, rejoice, and make the most of this asset by removing all drapes and blinds. If your basement doesn't have windows, you can still create the illusion of an open, cheerful space by painting the walls a light color, such as white, cream, pale yellow, or a soothing neutral, like sage green or beige. Don't go with dark paint or paneling in the basement, especially if there are no windows. You can also create the illusion of light and space by installing a large mirror on one or more walls.
Lighting
There's nothing worse in a basement than the surreal white glare of florescent lights. If you can, switch out florescent fixtures for a different kind of lighting. If you can, try to light the space with several floor and table lamps, rather than just overhead fixtures. Track lighting, uplighting, and lamp shades that exude a golden glow, will make the space feel as finished as the other rooms in your home.
Furniture
A basement is an ideal room for all the big, clunky pieces of furniture that might not fit so well in other areas of your home. This is the place for the pinball machine, pool table or gigantic armoire. But if you cringe at the thought of transporting your big pieces from storage, there's good news: services such as pool table disassembly are available from furniture experts. The company simply disassembles the piece, moves it, and reassembles it wherever you like. If you're planning to turn your basement into a rec room for teens, or a man cave, it may also be prudent to choose sturdy pieces upholstered in stain-resistant fabrics. Otherwise, you may find yourself needing couch upholstery repair!
Flooring
Basements are often subject to humidity and other concerns, so it makes sense to choose a sturdy, practical flooring. You'll want something stain-resistant and easy to clean, like tile, laminated wood, or linoleum. Throw rugs may be a more practical choice than wall to wall carpet, especially if you anticipate high traffic or messy projects.
Decor
There are lots of ways to make a basement space as finished looking and inviting as the other rooms in your home. Add plants, uplighting, artwork, and statuary. If your basement has one long, bare wall, cover it in a painted mural, or a photo wallpaper scene depicting the ocean, or a peaceful forest glade. If you plan to use the space as a live-in suite, but don't want to add many rooms, group the furniture in "room" arrangements, dividing areas by placing furniture back to back, in opposite directions.