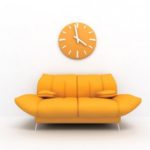 Buying slip covers for the sofa might at first seem like a practical idea. They're inexpensive, they seem easy to pull on and off, and they're washable. They're a quick, cheap and easy fix if you have company coming and you don't want them to see that large stain from last weekend's party. But sofa covers were never meant to be a long-term solution for a stained, ripped or broken sofa. Here are five reasons not to buy sofa slip covers.
Why buy a nice couch just to cover it up?
If you have a beautiful sofa, you want to show it off, not cover it up. After all, if your guests are only going to see a beige slip cover, it will hardly matter that there's a $2,000 Italian leather sofa underneath. You might as well just buy your sofa at a thrift store, because no one will see it (or enjoy it) anyway. Sure, the slip cover will protect the sofa, but if you never show it off anyway, what's the point?
You don't have to hide a damaged sofa.
If you're tempted to throw a slip cover over your sofa to hide a stain or tear, why not just find a permanent solution to the problem? If your sofa is badly stained or torn, you can easily have it reupholstered. If you're tired of the old look, reupholstery is a perfect opportunity to try to new color, a new material, or even a new style (a furniture pro can make changes such as adding or removing arms and legs, or changing the shape of the back rest.)
Slip covers that fit perfectly are hard to find.
Generic, off-the-rack sofa slip covers rarely fit well, and if they are being used to disguise a rip or a hole, may actually look lumpy rather than smooth. They also tend to come in bland, generic colors and fabrics that don't add much to the overall look of the room.
If you cover up damage to your couch, it will only get worse.
Covering up a rip or a broken spring in your couch is just prolonging the inevitable, and the longer you put off repairs, the higher the likelihood that the damage will get worse. And of course, the more damaged your sofa is, the more expensive it will be to repair when you finally do have it fixed. Why not just repair the couch right away, and avoid the higher costs?
A slip cover won't fix an uncomfortable couch.
If your couch is lumpy, if the cushions sag, if the legs are uneven – a slip cover won't fix it, and usually, won't even hide it. The only statement it will make to your guests is: "I need to fix damage to my couch, but I'm covering it up instead." Why make that impression, when it's so easy to fix even severe sofa problems with a call to a furniture professional?
Your sofa is the centerpiece of your living room. Don't cover it up! Make it a beautiful expression of your style. A furniture pro can make it happen.