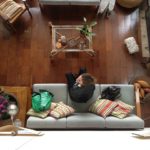 If you had to pick one piece of living room furniture as "most important," you'd probably pick your sofa. There are lots of good reasons why, but here are five compelling ones to keep your couch looking its best.
It's probably the most expensive piece in the room
If you rule out electronics, your sofa is probably the single most expensive object in your living room. It represents a sizeable investment, especially if you bought it new, or if it's made of leather. Even if your sofa comes in second to a pricey antique or painting, it still probably cost you a pretty penny. That's why it makes sense to protect that investment with precautions like fabric protection. Fabric protection can keep a small food or beverage malfunction from turning into a new sofa bill.
It's the most used piece of furniture
A sofa is a heavy-traffic item. If you're single, it's your guest center, and if you have a family, your kids pretty much grow up on it. If you have pets – well, your sofa is most likely a highly-contested trophy with ever-changing owners. If you entertain, your sofa may also double as a table or a wine bar. With all that activity, your sofa is a very likely candidate for a rip, scuff, stain or burn. Lucky thing there are furniture pros who can repair your couch for less than it would cost to buy a new one.
It's one of the most comfortable spots in the room
Okay, you may love your recliner, but if you really want to sack out in front of the TV, where are you going to crash? Why, on that cushy couch, of course. A large sofa can (and often does) double as a second bed. There may even be enough room for two family members to cuddle up there. Three, if you count your dog.
It's the anchor piece
No matter what style of furniture you have in your living room, the sofa is most likely your anchor piece. It is the piece around which all other pieces are arranged. The style of the sofa establishes the mood in a living room, and is therefore very important. While it might be possible to get away with imperfections in other pieces of furniture, it would be difficult, if not impossible, to create the impression of a stylish, attractive living room with a ripped or stained sofa.
It's the largest piece
Your sofa is more or less the elephant in the room. It makes sense to keep it a well-groomed, attractive elephant by keeping it in good repair, and protecting it during any moves. If there's a move in your future, you will be glad to learn that a furniture pro can spare you the necessity of carrying your elephant to the new house. The pro can disassemble furniture, including your sofa, and reassemble it inside your new home.
No matter how you look at it, your sofa is the most important piece of furniture in your living room. Keep yours looking great by talking to a furniture pro today.