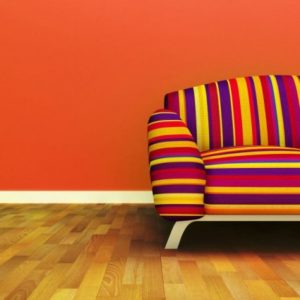 Just because most of the time in your bedroom is spent with your eyes closed, doesn't mean it has to be a bore. Adding a pop of color – or a lot of color – to your room can be a great way to energize yourself each day.
If you want to bring your room to life, there are a few things to consider before you get started:
How much color can you handle?
If you have a mostly-neutral colored home or you easily get sick of bright colors, do not reach for the paint cans. There are plenty of easy ways to bring color into the room without painting the walls. Consider furniture reupholstery to bring some life into the old sofa in the corner, or spray paint some picture frames to hang vibrant art.
If your attitude about color is "the more, the better" than feel free to paint one wall or all four with the brightest colors you can find. Just make sure you know what your committing to before you dip the brush.
Decide on your color palette.
Colorful bedrooms can either be perfectly coordinated or terribly clashing. Before you rush out to the store, sit down and decide on the colors you want to use in the bedroom. If you aren't sure if two colors go together or not, here's a tip: Using different shades of the same color (like cobalt and light blue) look put together. If you want to use different colors in the room, consider picking the two colors next to your main color on the color wheel to accessorize with (blue with purple and green accents.) Want an even bolder color-combo? Choose the color on the opposite side of the color wheel from your first color choice, such as blue and orange).
How do you want to feel in the room?
Do you want your bedroom to make you feel instantly happy and rejuvenated? A yellow bedspread or a bright sofa will do the trick! Sofa delivery can bring your dream sofa into your new, sunny bedroom. Want to feel calm, cool and collected? Blue should be your go-to hue.
Colors can have a major influence on our mood, and your bedroom is the first place you see each morning and the last place you see each night. Make sure you love the colors you choose both times of day. You don't want to hate your bedroom each morning but love it when the sun goes down!
When you pick your colors, you can use them in a variety of ways in your room. Custom furniture can transform a dull couch into a sunny spot – but if you can't stick with colors for that long, consider throw pillows instead. If you're fully committed, grab the paint brush and have a little fun! No matter how you bring color into your bedroom, if you are committed to feeling happy and healthy when you wake up each morning, you won't regret your decision to brighten up!