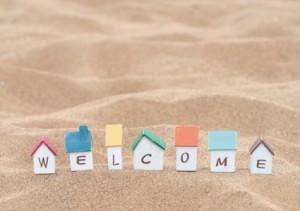 Just because your beach house isn't your year round spot, doesn't mean you can't customize it!
Beach houses serve as a great place for a vacation or a weekend getaway, so it is essential to design your home in a way that will make it seem like a relaxing retreat away from reality. There are a variety of design plans to choose from, and by following a few key tips you will soon have the beach home of your dreams.
Choose a Bright Color Palette
Using punches of bright color on crisp whites and linens will give your beach house a sunny feel. Choose bright accents, such as turquoise throw pillows or rugs to mimic the blue of the ocean. Also utilize whitewashed shiplap planking as a custom made wall unit can provide a classic beach front feel to your summer home.
Consider Louvered Doors
Louvered doors are a staple of beach living, as they allow for an easy transition into a casual, alfresco setting. They also provide a nostalgic look reminiscent of older beach-front cottages. Use canvas curtains for additional protection and to add softness to the room.
Take Advantage of the View
One of the most important features of any beach house is the view, so having a comfortable space to relax and take in the sights of the water is important. It is essential to choose the right furniture for this room, but it doesn't mean you have to spend a lot of money in the process. Consider reupholstering furniture you already have or investing in a new slipcover. If you already have a well-used couch or leather chair, repairs can be made to bring them back to life. If you need assistance in moving in or rearranging your furniture with the help of couch movers, NYC is home to a variety of services that can help you with these needs.
Prepare for Entertaining
Many beach house residents desire a home that is fit for entertaining so that friends and family can also enjoy the space during the warm summer months. Consider adding a patio space or a custom made bar or table in order to accommodate your guests and to maximize the amount of time you can spend outside of your home and on the beach.
Embrace the Beach Lifestyle
Living at the beach comes with a laid-back and relaxed atmosphere, so choose pieces for your home that can help you to embrace this lifestyle. A deep porch swing or an overstuffed chair can help you to relax on a lazy Sunday afternoon. Choose pillows in bright colors to accent these pieces.
Add a Few Coastal Accessories
Adding a few nautical or coastal touches around your beach house is a great way to appreciate your water-front location. Try adding coastal artwork over your fireplace or adding seashell-print pillows in your family room. Adding shells as decorative features can also create a coastal focal point in your home. You can also dress up an old mirror with beach accents like oyster shells to create a coastal feel, and this can serve as both a beautiful and functional statement piece.
I hope these tips helped, please share some of your own in the comments section below!