If your dressers are looking a little bit tired, but you don't yet have the money to replace them, there are several options available to spruce them up without breaking the bank. Whether you're resurfacing them, replacing knobs, or just relining the interior of the drawers there are ways to change the look without going over your budget. If you wish we offer dresser redesign services to help you achieve the look you're going for.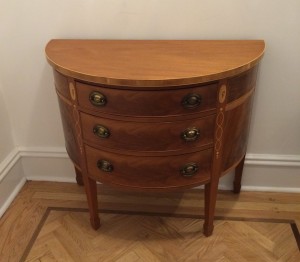 Changing out the Knobs
Are your knobs looking a bit worn? Perhaps one or two are missing? Changing your knobs is a low-cost way to update the look of your furniture. If you do a simple search for new knobs you will find there are dozens of styles to choose from. If you're stuck, or if you're unsure how the new knobs will fit in with your overall style, feel free to contact us for ideas or assistance.
You will need to measure the distance between the bolts that hold your knobs in to ensure that you purchase the same size of replacement knobs. Or if you're handy with a drill, you could just drill new holes and fill in the old ones with wood putty. Taking this route will mean you have to refinish the dresser, so be sure you're aware of your commitment before you begin drilling!
Resurfacing the Dresser Inside and out
If you want to completely change the look of the dresser, consider adding upholstery. The transition from wood to a nice upholstered finish will often be enough to give the impression that it's an entirely different dresser! Upholstery has the advantage of not being prone to dents or scratches, so you may find it to be a bit easier to maintain than wood is. Many varieties of upholstery are stain resistant so keeping it clean should be a breeze.
If you want to keep a wood finish, but yours is starting to show its age, you may consider removing the old finish and starting new. Depending on the state and color of your old finish you might need to sand down your dresser, so this option can be a little bit messy, but the end result is well worth the effort. Although this takes a bit more time than changing your knobs you should still be able to get it done in a weekend. The result will be a like-new dresser that should last for years. If you choose this option please remember to ensure you have adequate ventilation when using finish or stain.
If the interiors of your drawers are beginning to look ratty consider relining them with contact paper. Replace the peeling liner with a colorful, bold lining without spending much to do it! If you're really ambitious, you could even use contact paper to resurface the dresser itself. While this option is very low-cost you really do need a professional eye involved so please contact us at Dr. Sofa for help in planning your new design.
Whether you decide on a simple knob change or a full-blown makeover complete with new finish or covering, we are here to help you. Our dresser redesign services are available to assist as much or as little as you need. Contact us today for ideas or help.