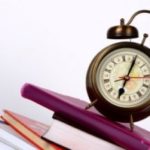 Summer-end is approaching and it's time to start thinking about that day in a few weeks when you will need to pack your bags and head off to college. This time of year is always stressful because it marks a new beginning: starting either a new school or a new school year with different teachers and classes and roommates. And the amount of money it costs to receive this education doesn't help the level of stress. You need to pay tuition, and pay for textbooks and paper, clothes, and furniture—and all these little things can add up into one exorbitant price. The good news is there are some simple things you can do to help you cut some corners. Follow these easy tips for how to furnish a college dorm room on a budget.
Make Lists
Lists will be your best friends when it comes to college move in day. You want to make a list of everything you absolutely need. This should include such objects that are essential to college life. You should also make another list of the less important "I would like to have this, but I don't need it" things. Organize everything in order of importance, and use you're common sense when making these lists. You will want to keep this list with you so you can use it as a checklist to make sure you remember to bring everything on the day you move in.
Communicate
Talk to your family and friends about old appliances that they no longer need or use and ask them if you can borrow it (or keep it) for the year. Maybe they wanted to buy a new microwave, but the old one is still usable? Maybe they were just about to throw out their table, but they didn't know what to do with it, so they've been stalling? Talk to them about what electronics and furnishings you need and see if anyone can lend you anything. Chances are you will be doing them a favor by taking their old junk and turning it into your own treasure. Don't be afraid to repaint some of the more worn objects!
Shop Cheap
Drive around to different thrift stores and garages sales and see if they're selling anything you can use. The dollar store is a great place to buy brooms, mops, dustpans, and toilet plungers. Also, many people leave old furnishings on the street curbs that are free for the taking. If you find an old and worn coach, table, or chairs, don't disregard them so fast. There are many options out there that provide opportunities for sofa reupholstery services or leather sofa repair services, so be sure you take advantage of them!
Make sure you talk to your roommates about who is buying what so that you don't end up with five fridges, television sets, microwaves, and couches all stuffed into one little room! And don't worry about transporting everything to your new room. With pick up and delivery services, you can sit back and relax while all the hard stuff is taken care of for you. For more details regarding college move in and move out,