Since at least 1789 when Thomas Jefferson purchased one, ottomans have enjoyed a place of popularity in American homes. Before that the Europeans found them useful as did the denizens of the Ottoman Empire after which they were named. Coming in a variety of sizes and even varying shapes they serve multiple purposes and may even be hollow for the purpose of providing storage space.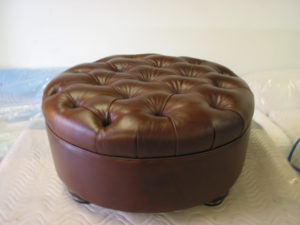 Ottoman Appearance
Unfortunately, many ottomans seem to be created almost as an afterthought to accompany a matching armchair. These generic ottomans, while certainly serving a functional purpose, don't really do anything to add to the décor and the ambience of a room. All too often they are relegated to the position of being shunted around the room almost as if they are more of a piece of clutter as opposed to being a unique piece of furniture with many wonderful possibilities.
Some manufacturers view ottomans purely in light of their utility. While they are without question useful they should be aesthetically pleasing as well. A generic ottoman—while not offensive to the senses—does little to add to the overall feel of a room.
Ottomans need not serve merely as an accompaniment to a chair. Many different styles of unique ottomans are available to those who want them. Let your imagination run wild and spend some time browsing the various ottomans. Envision them in different settings to see how they fit with the effect you're trying to create.
Perhaps you could cover your ottoman in dark leather to accent your wood floor. Or, if you prefer a cloth covering, choose a bold pattern that will draw the eye rather than a drab, solid color that seems to blend in with the background.
In addition to varying coverings and patterns, ottomans may be customized in their style as well. Of course they may be used for storage if they are built correctly, but beyond that, they may differ in height, dimensions, and even shape. Not every ottoman must be a square; in fact, some of the more unique ones are circular or octagonal. Some ottomans are styled after a bench and may be employed for dual purposes.
Custom Built Ottomans
If you have a certain look in mind, but you just can't seem to find what you're looking for, you could always take the route of having one built for you. An ottoman customization company should be able to help with the design, beginning with the basic structure and working all the way up to the various coverings available.
From helping you to determine the style that is best for you, to assisting you in deciding what type of cloth (or leather) to use, we at Dr. Sofa are committed to helping you obtain the ottoman that will complete your set. Instead of settling for something that just matches your other furniture seize the opportunity to use the ottoman to compliment and accent the décor. Contact us today to see how we can help you obtain the perfect piece to complete the setting in your home.