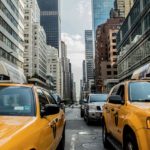 Finding a great nyc apartment is only half the battle. Get help with the furniture that makes your apartment your home.
Living in the Big Apple comes with plenty of satisfactions and challenges. There's so much to do, so much going on, and the logistics of daily life can get complicated at times. The last thing you, as a New Yorker, need is additional complications with your furnishings.
When you get home after work or school you want to relax in comfort, not feel hassled by a chair with damaged upholstery, a sofa with a sagging seat or a table that wobbles. Perhaps you're living with furniture pieces that you like but that don't fit properly into your apartment, or have moved into an open-plan loft space where you feel like you and your belongings are rattling around rootlessly. These are the kinds of problems that can keep your place from being a real home and should be taken care of. But when you need furniture help, what (or who) should you look for?
Assuming you're not a skilled carpenter or upholsterer yourself, the simplest, most effective course is to shop for a company that specializes in general furniture services. The internet will be a big help. Furniture repair in NYC is a field populated by a broad range of professionals who are skilled in many crafts and techniques. Some firms may have begun as upholsterers, others as carpenters, but have broadened their scope of expertise to include areas like the following:
Disassembly and Reassembly
These services are useful for many city dwellers who are either moving or are purchasing oversize pieces of furniture. Big sofas, chairs, sectionals, cabinets, etc. can be expertly taken apart into component parts, moved through restricted access points into apartments, and put back together, looking pristine and untouched.
Upholstery and Reupholstery
The large, competitive market of the metropolitan area means that upholstery specialists have gained plenty of experience with many kinds of furnishings and every sort of upholstery material. Antiques, cutting-edge modern pieces, overstuffed sectionals, coverings from denim to silk, and the special techniques required for leather repair — in New York City an experienced upholstery firm will know how to deal them all.
Furniture Repair and Restoration
This can mean anything from reinforcing the framework of a favorite but saggy old chair to bringing a damaged vintage table back to beauty and usefulness. Furniture service pros will be able to complete chair and sofa repair and other carpentry, wood refinishing, and many other projects to your satisfaction.
Furniture Redesign and Fabrication
A boon for New Yorkers with living spaces and furniture that don't match! Many a flat has either a restricted floor plan or an eccentric layout with alcoves, window bays, etc. completely unrelated to standard furniture dimensions, while other spaces suffer from "open-plan-itis", with no rooms or defined storage spaces other than the bath and a kitchen area. A good furniture services company can help out with these and other special situations by reconfiguring your existing pieces or building custom units and furnishings that will turn the most problema