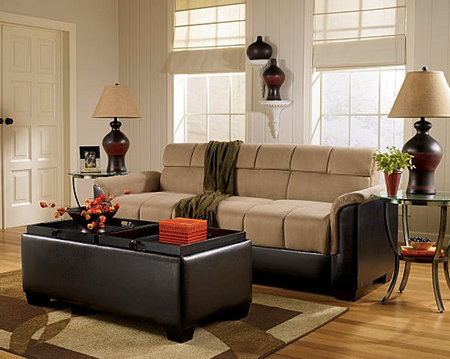 Choosing the right furniture for you and your family is an extremely important task. Your family room or living room is where your loved ones will spend the most time together. Whether you're all watching movies or having an intense game night, you want everyone to feel cozy and comfortable. By choosing the right sofa and furniture accessories you can create a fantastically functional and welcoming environment for your family. Here we'll give you a few tips to making a successful family room.
Picking the right furniture can quickly become a daunting task, but it does not have to be. First, consider your family's needs. How much space is available in the room and how many people are typically going to be entertained? Think about the what this room will mostly be used for and plan accordingly.Then think about the look or design you are going for. If you are going for a little more traditional, a classically structured sofa in a durable and neutral colored fabric will suit your family room well and instantly complement any other pieces you buy.
If your home currently has more of an eclectic mix of colors and designs, go for a couch that has a unique style. If you're looking to save money, consider reupholstering your couch in a colorful fabric or vintage design for some exotic appeal. Whatever you choose, always remember to pick a style that properly complements the design already in your home. There's nothing worse than furniture that clashes with your decor.
Leather is timeless and wears well with old age, unlike most couches. Consider seeking a professional service that can protect your sofa from future stains. Families with children should heavily consider fabric protection for furniture. You'll save money and stress by avoiding the stains now as opposed to spending your weekends constantly cleaning your cushions. Another great way to have an easy clean up is using slipcovers for your couch. Custom made sofa slipcovers are amazing for those uniquely shaped couches. They're a breeze to slip off right into the washing machine and back onto your cozy couch. This also allows you to pick a neutral colored couch and a more festive slipcover, giving you the opportunity to change up your family room's style whenever you feel the need to mix things up.
When at an extreme loss, think about designing your own furniture with the help of a professional. Custom made furniture is a life saver. It allows you to create a unique piece that will always fit in your chosen space and adequately serve the many needs of your family. Encourage your family to come up with different ideas and settle on the decision together to create an amazing design you all will love. You'll bond over this shared activity and everyone will feel heard. Your family will feel extra welcome and comfortable in a room they helped design, and you'll feel better knowing that whatever design you choose will be one that they love.