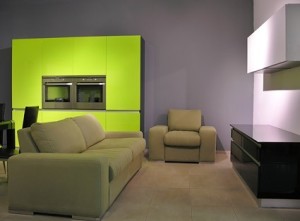 Decorating a small space can be a challenge. Often times, small living room decorations become a balancing act between style and function. You might be feeling like it's impossible to have an attractive, well-decorated room with boxes of your things still unpacked in the corner. There is a way to get everything you want into your small space. You just need to make your space work for you.
Try these furniture options to help your small living room seem larger, and hold more without sacrificing either.
Skip the couch, go for a loveseat
Loveseats are smaller than traditional three-cushion couches but they serve the same function. The best thing about buying a loveseat rather than a couch is that they take up less space, making your living room look larger than it is. If your living room is dwarfed by a too-big couch, it will cause the space to look even smaller.
Before you buy your loveseat, measure your space to ensure you get one that will work for you. Consider investing in NYC sofa disassembly to help get your new furniture into your apartment safely and carefully.
Ditch the traditional coffee table
Forget the regular coffee table if you have a small living room. Rather than a plain table, get a coffee table that is both stylish and has lots of storage options. An ottoman is a great option for storing blankets, remotes, magazines or anything that you need to hide but want to access easily.
Mount your television
Don't take up precious floor space with an entertainment stand; mount your television on the wall if you can. That way, you can choose a piece of furniture with more available storage to put beneath the television rather than being married to an entertainment stand.
Use all your wall space
You probably have ample bare wall space in your small living room. Use it! Create the look of built-ins with wall shelves that can store books, pictures, blankets, lamps or anything you need to get up and off the floor!
There are tons of options when it comes to finding great wall shelving. Shop around before you commit to ensure you find a shelf that will hold all you want to store.
Invest in under-couch storage
If you still need to store some of your excess items, like your off-season clothing, consider investing in under-couch storage that can be custom-built for your loveseat. You can hide your storage beneath the couch and you can also access it whenever you need.
If you live in NYC, furniture movers can help you to get all your items into your home, but you're out of luck if all your new stuff doesn't fit. Make sure to measure your new space before you move to ensure you know what you're working with, and get furniture that stores your extra stuff. You can get everything you want in your small living room, as long as you get the right furniture.