Are you looking for a vintage couch for your home but aren't interested in the expensive antique store prices? A better option may be to find a vintage piece that is in need of reupholstery. Fortunately, there are numerous online resources that can connect you with sellers looking to unload their vintage furniture pieces, and once you find the perfect one, you can use the services of Dr. Sofa to give your couch the look of your dreams.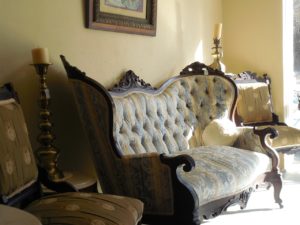 Find Vintage Couches on Craigslist
Craigslist is a great place to find unique pieces of furniture from people who are likely willing to sell them at a decent price. However, you should be sure to follow some helpful tips when trying to find a vintage couch for sale on this website:
Be specific with your searches. People may call something "vintage" that really isn't, so searching for a vintage couch might not get you the results that you're looking for. Instead, if you have a favorite brand or designer, try searching for that, and consider synonyms that potential sellers might have used.
Use the "furniture" and "antique" categories. Sometimes people categorize their items in a strange manner, so be sure to look through any category that seems even remotely relevant. For example, a seller might list a beautiful antique end table under the "furniture" category rather than listing it as an "antique."
Make sure you're using the "pic view" mode of searching. This is a much better option than searching through a list, as it will help you to avoid garbage. You'll be able to float over the pictures to look for the vintage couch of your dreams.
Negotiate the price. If the post is at least a week older, go ahead with a lower offer, even if the seller's listing says that the price is "firm."
Used Couches on eBay
Using eBay is a great way to find some amazing vintage furniture pieces and accessories. The website filters through search results using keywords, so it is important to be strategic in regards to the terms that you enter. While most of the listings will contain a considerable amount of information, when purchasing large items like a couch, you'll want to ask the seller questions about the piece to make sure that you're making an informed condition. Most people will note that something is in "good condition," which is quite vague, so be sure to ask for more information about the condition of the item.
eBay is also a great way to get the best possible price on your pieces, which can offset the sofa upholstery cost to make having a like-new vintage piece even more affordable. The prices within the vintage market are usually negotiable, and eBay offers a "Make an Offer" feature that will allow you to submit a reasonable offer that is lower than the original asking price. If your lower offer is okay with the buyer, the couch will be yours!
Etsy, Thrift Shops and Other Sources
There are plenty of other places to obtain vintage couches. Online, you can try Etsy and some other websites. Also try doing a search for local thrift shops. You might need to walk around or drive to different shops but it's worth the effort to find the perfect gem of a sofa.
Once you've found the vintage couch of your dreams, contact Dr. Sofa to reupholster your couch and update its look. You'll be amazed by the transformation.