Leather furniture is a timeless addition to any home, and your leather pieces can be a great long-term investment. Many people that are hoping to redesign their space are choosing to give their leather furniture a new look rather than buying a new piece, and there are a variety of great resources in the city that can help you to do just that.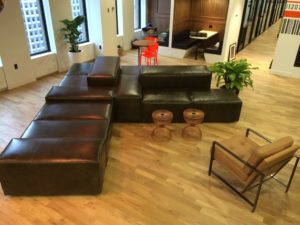 Furniture Trends in the News
There are a variety of great furniture trends popping up across the country, and these stories can help to inspire you when working to come up with custom leather furniture ideas in your home.
Apparatus Studio
One of the newest furniture design trends in New York City comes from two Brooklyn designers who only recently embarked on their quest to create unique furniture. The duo consists of a former fashion designer and a public relations executive who became frustrated when they couldn't find the pieces that they wanted for their L.A. apartment. They started toying with industrial components to produce both lighting and furniture items that give Modernism a timeless twist. While most of the furniture designs offered at Apparatus are lighting fixtures, they are designed to accompany any leather furniture pieces, and they are especially well-suited to fit well in a vintage-meets-modern space.
Interior Marketing Group
The Observer recently ran a story about Cheryl Eisen, the president of Interior Marketing Group, who specializes in staging high-end real estate to appeal to potential buyers. Ms. Eisen has a 12-day staging process in order to create a customized space. In one example, Ms. Eisen worked to create a loft with a bachelor-pad feel, and she chose to combine a white leather couch with a modern black bed and sleek black chairs in order to create a master suite with a minimalist feel. This story highlights the trend of staging, which involves arranging a home in a way that will maximize its curb appeal to possible buyers.
Hotel Decor
Have you visited a luxury NYC hotel and been impressed with the style? If so, have you ever considered recreating this décor in your own home? Fortunately, there are ways to incorporate these designs into your own home to create a cohesive atmosphere with a warm aesthetic. Hotel designer Matthew Grzywinski offered a variety of tips on how to recreate hotel looks to Realty Today, including choosing real materials like leather, wood, and concrete, as these options tend to be more durable and versatile. Homeowners should also consider working with these materials to create an interesting layered look.
Creating a New Look with Your Existing Leather Furniture
Fortunately, you don't have to hire the services of an expensive interior decorating service or designer to get a beautiful home, as there are a variety of ways to revitalize your existing leather furniture. If you are in need of services to reupholster your sofa, the cost of this service is generally much more affordable than buying a new piece. Even something as simple as buying inexpensive covers for leather couches can dramatically alter the appearance of your space. The final result will be a space with a unique and updated look without spending a fortunate on new furniture.