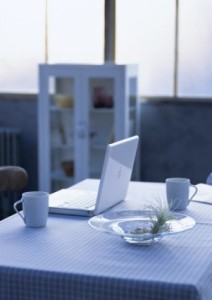 Have you decided to become your own boss? Are you one of the lucky few who have zero commute to the office, other than a stroll down the hallway or up the stairs? Then take advantage of this blessing and design a great office environment for yourself right in the comfort of your own home. Choosing the right pieces and getting adequate lighting are some of the first steps in optimizing your office space to make sure you work well every day.
When setting up a home office environment, it is helpful to first analyze what type of work space goes best with your style of working. Do you need peace and quiet? Are you distracted easily? Would clutter make it tough for you to concentrate? Do you need to move around in order to create? Identifying what type of office would enhance your productivity can determine what kind of layout you should set up and what type of furniture to include. It can even help you realize that you really don't like that cubicle feel and choose non-office types of furnishings for your office.
Comfort is important, so you may want to include a sofa in the area for those much-needed breaks. Taking a few minutes to switch focus during a task can actually make a person more productive, so don't ignore the need to have an oasis in the middle of your workday. It may be a good idea to disassemble your sofa to move it into the office space. You might also consider ordering a custom piece that will require furniture delivery, because then you know you can easily get the piece straight to your doorstep.
The all-important office chair can take on many forms. For best results choose an ergonomically designed piece that provides proper back support and positions you at a comfortable level for computer work. You may even want to consult a chiropractor or back specialist to get advice on what types of chairs work best for long periods of sitting. Even with taking frequent, short breaks, your back can begin to ache from improper alignment or lack of support.
You will want your home office to be tidy and organized, so be practical about whether or not you need a filing system. Do you even need to keep papers? You may be able to omit that piece of furniture altogether since modern conveniences allow for electronic storage of data in the cloud or in online locations.
Will your home office be called upon to host meetings? If that is the case, consider investing in a small, round table and a few chairs. Take accurate measurements to see if this is even possible, being sure to factor in doors and windows that take up floor space you would otherwise want to have for additional seating. Be conservative when shopping for furniture for your office, make sure you aren't adding pieces that will wear out quickly or lose their style too soon. If your home office is not able to be closed off from the rest of the home with a door or separate entrance, the furniture should coordinate with the other rooms that are connected.