If you have an old armchair you've been eyeing for the trash dumpster, take a moment to consider your options before pitching it. Armchairs are sometimes like a pair of shoes: they take some time to break in but once you've made them "yours" then no other one out there fits you quite as well.
Rather than putting the chair at the curb for the trash collector, you might first consider your repair options. If you're especially handy, you could probably repair it yourself. Or you could look to an armchair repair company for help.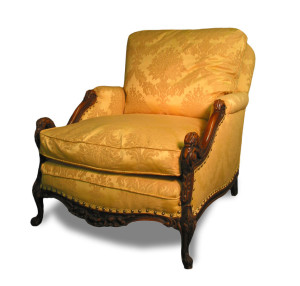 Repairing the Chair Yourself
Sometimes the chair isn't actually in as bad of shape as it might appear. If the frame is still strong and the joints are still solidly held in place you may be able to get away with something as simple as reupholstering it. A new covering on an old chair means you get the best of both worlds: a chair that looks brand new but is still the same comfortable perch you've grown accustomed to. There are many armchair upholstery ideas available online to help you get started.
Even if the frame is a little bit wobbly, if you are handy with tools (or even if you're not) you might be able to rescue the chair from the trash heap. Take a look online at some of the how-to videos published by professionals. Some of them are very helpful and show you step-by-step how to take apart a chair, repair the frame, and then put it together again. If you have the time, the tools, and a little bit of patience, you can probably learn what you need to know in order to repair your chair and get it back into tip-top condition.
Hiring a Professional to Help
If you feel like a chair rescue mission is simply beyond your abilities, there still may be hope for your favorite recliner at a cost that you can afford. At Dr. Sofa we have professionals available who can help you keep the chair going for a few more miles. For much less than what you would spend on a new chair we can take a look at it and perform the necessary repairs to ensure its continued presence in your living room.
Aside from the cost saving of hiring a professional to repair your chair instead of replacing it altogether, consider the convenience of doing so. You've probably spent a fair amount of time in your chair getting it to just the right comfort level. At this point, it's not just a chair, it's your chair. Instead of having to start over with a brand new, unfamiliar one, by hiring a professional to repair your chair, you are then able to keep your chair.
Contact us today. Let us take a look at your issue and see what your options may be. With the right help and a little tender loving care, we can keep your chair looking good, feeling good, and structurally sound for a long time to come.