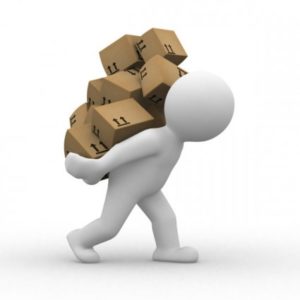 Whether you're moving across town or across the country, moving requires a lot of coordination, planning, and careful attention to detail. In addition, it requires a great deal of man power to accomplish the heavy lifting required to get your larger pieces of furniture, and the endless stream of boxes, out of the old home and into the new. Most people, when faced with the daunting task of a DIY move, choose to pursue the help of a moving company or furniture delivery services. If you are considering something similar, check out these three great storage for delivery options, designed to get your big furniture out of your way and into your home easily and quickly.
Renting a Storage Unit
Although this option isn't perfect for every move, it's a great choice to consider if you're going to be delayed or displaced for a few days between your move-out and your move-in. Renting a storage unit gives you a place to put your larger items and non-essentials while you ready your new home or wait for it to become available. Another great use for a storage unit is to keep your big, bulky furniture out of your old home while you clean, organize and pack. In many cases, large furniture items take up space on the floor or walls, and space is at a premium when you're planning a move.
Renting a Crate
Perhaps more convenient than a storage unit, renting a crate is a perfect choice for people who want access to their items on a daily basis, but don't have room for them currently in their home. Crating works great for people who are doing a remodel, a short-term move, or a cross-country road trip. The only difference between a storage unit and a crate is that a crate can sit in your driveway, or be loaded up and moved with you when you're ready to go. This means that you will be able to keep a better eye on your things, and you won't have to stress if you need to access something crated in the days before your move.
Furniture Disassembly
Furniture disassembly is another great option for people planning a move. If you're moving into cramped quarters (like, say, a New York City apartment) or you just want more space in your moving van, furniture disassembly is a process that can provide what you're looking for. It's a simple procedure where furniture "surgeons" take apart and reassemble your large furniture like sofas and loveseats. The items can be disassembled in your home, and either moved by you or delivered by the company. Apart from the space-saving benefits, you get the added bonus of knowing you have built-in furniture protection from the dings that happen in a moving van.
If you're planning a move, consider your options before selecting a storage or delivery option. Determine your specific needs, and plan ahead to make your move a seamless, stress-free process.