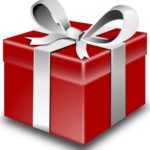 Five great holiday gift ideas for the home decorator on your list. These gift ideas will be a welcome addition to any home decorating project.
The holidays are naturally a time for home decorating. It's time to make your home sparkly, warm, and inviting for your family and friends. Home decorating gifts are appropriate during the holidays for that reason alone. But if your gift list includes an avid home decorator, these five holiday gift ideas are sure to be especially welcome, and will be useful well beyond the holidays. Take a look at these five holiday gifts for the home decorator. Whether your friend wants to redesign the whole house, or just repair a couch, there's a gift idea here for them.
Gift Certificate
You really can't go wrong with this idea, and there are so many ways you might go: a gift certificate to a favorite furniture retailer, a gift certificate to a home improvement store, a gift certificate to an art gallery or framing shop. For a creative twist, you might even give your friend a gift certificate for furniture repair, furniture design, or furniture moving. Those are services that are bound to be needed, since at some point everyone needs help with tough tasks like moving or a sofa bed repair.
Stencil Kit
You don't have to be an artist, or have any kind of artistic skill, to use a stencil kit, and there are all kinds on the market. A stencil requires only a steady hand and the ability to paint. A well-executed stencil is probably one of the quickest ways to transform a plain white box into a room with a personality. Stencils with long, scrolling flower, leaf or toy patterns make a nice border at the top of walls. Stencils with words or sayings can be used across a den or living room wall, or even on wooden stair steps.
Accent pieces
This idea works best if you have a fair knowledge of your friend's tastes. You can buy a unique or striking accent piece to coordinate with what they already have. If you know your recipient very well, you might go with an antique or international accent piece. If you're less sure, but want to give something memorable, try accent pillows, throws or rugs in a solid color, but with interesting textures.
Artwork
Artwork is a riskier choice than simple accent pieces, since you need to know your recipient very well to choose something they would like: but if you do know, it's a gift that's both personalized and stylish. You can go with anything from a framed Van Gogh print, to a piece of folk art pottery, to blown glass. Keep in mind that the garden is also a living space, and if your friend is an avid gardener, don't forget possibilities like painted tile work, garden sculptures and small fountains.
Ideas
If you don't feel comfortable making a choice for your recipient, you are always safe with a subscription to a design magazine, a book of design ideas, or software to help your friend draft design ideas before committing to them.
These home decorating gift ideas are sure to be a hit with your family and friends. From accent pieces to expert furniture repair, there's something here for everyone.