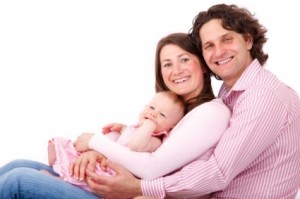 If you're at the point in your life when you're settling down and starting a family, you need to take your home into account. Having children means designing a home that is safe, happy, and most importantly, durable. Stain removal will become your top priority when you have a messy toddler running around the house. Your furniture has to be tough enough to take wear and tear. Help your furniture outlast the baby-stage with these tips.
1. Get the Right Fabric
A fancy sofa might be the best choice if you're single, but a brand new family means spills, stains and accidents that can permanently stain your sofa. When you're choosing your material, whether you decide that fabric is perfect for you or you prefer leather, choose a sofa that is dark enough to hide the small stains that are a natural part of childhood.
2. Protect Your Sofa
Whether you go with leather or fabric, light or dark, stains are inevitable. Instead of getting mad when they happen, be prepared for them in advance. consider getting anti stain fabric protection for your sofa. If you protect your sofa properly, liquids should bead up and wipe away. Food stains should take longer to sink-in to your sofa, providing you more time to react to a spill. Bottom line: if you value your furniture at all, protect it with a stain protection plan.
3. Have a Furniture Repair Number
It isn't just stains that you'll need to worry about with young children. A pair of scissors in the wrong hands means your sofa has strategic cuts in the cushions. A permanent marker can mean a death-sentence for your favorite leather settee. You should have the number for furniture repair on speed dial. Don't replace your sofa if accidents (or not-so-accidental-accidents) happen. Just repair it for much less.
4. Keep Expensive Furniture Out of Sight
The playroom is not the place for your best furniture. Keep your really nice sofa in your bedroom or in the office to protect it. When your children get a little older, you're probably safe to bring it out of hiding again.
5. Form vs. Function
In the battle of style vs. functionality, function wins in a home with small kids. But that doesn't mean your functional furniture has to be ugly. If you're about to purchase a new couch, consider one that doesn't have sharp wooden edges. Opt for a softer, fluffier fabric that won't cause serious injury if you're new walker runs head-first into it.
When you're expanding your family, furniture services should be a consideration. Stain protection and furniture repairs are a huge part of making it through the early years without ripping your hair out. You can have furniture you love and a family you love, you just need to be strategic about it. Keep your nice furniture out of sight, and protect the rest with a smart furniture strategy.