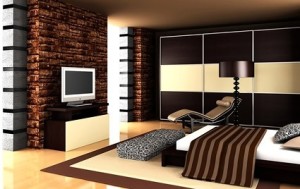 When guests come to stay at your home, you want them to feel welcome. Cleaning the house, putting crisp new sheets on the bed and preparing a favorite meal are all great ways to help your guests feel welcomed, but there are some more obscure (but no less important) touches you can add to your guest room to transform it from a spare bedroom to a retreat. The goal is to make your guests feel like everything, from the lights to the
sofa was custom made for them
.
1. Use Cotton Sheets
Cotton sheets are soft, they don't irritate skin, and they feel comfortable and relaxing. They're a great option to put on a guest bed because they don't get too hot, but they warm you up if it's cool outside. Provide extra blankets so your guests can layer if they need to. Nothing is more uncomfortable than being too cold to sleep.
2. Supply A Nightstand
Whether you use a nightstand in your bedroom or not, you should supply one for your guests. Set the room up so that your nightstand is near the outlet in the room for an alarm clock or a phone charger. Fresh flowers on the nightstand help to brighten the place up and make it feel like you've thought of everything.
3. Make The Bed Simple
The pile of pillows you have on the guest bed definitely looks nice, but you need to remember that your guests will likely be making the bed (as a courtesy) while they stay with you. Make it easy on them, ditch the fancy pillows and allow them to easily put the room back together when they wake up.
4. Fix up your furniture
A lot of times the guest room is the room where the leftover furniture gets stashed. This works for your family, but it doesn't make your guests feel very welcome. Consider reupholstering a couch or sanding and staining that old table to make the room feel put together.
5. Set Up A Food Cart
This is a simple thing to put together, but it makes the entire room feel more personal. Your guests may get hungry early in the morning or late at night, but they probably don't feel comfortable rummaging through your refrigerator. Set up a cart in the room with a pitcher of water and some snack bars or fresh fruit to satisfy their cravings.
6. Use Crisp Whites And Bright Colors
Making the base of the room white feels clean, fresh and versatile. Use bright pops of color on the pillows or night stand to liven up the room and make them feel happy to visit!
When it comes to making your guests feel comfortable, it's all about personal touches. Do what you have to do to make the room feel put together and homey. Something as simple as investing in settee repairs or buying nice new pillows can help your guests feel comfortable, making their stay more enjoyable.