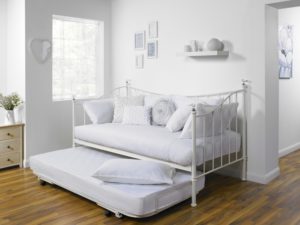 When you want to maximize a small space, but provide a versatile and comfortable sleeping spot, few solutions are as multi-faceted or provide more advantages than a day bed. Day beds have become go-to pieces for home design of small and multipurpose rooms. Most often recommended for craft rooms or spare bedrooms, these pieces of furniture provide a wide range of style options for decorating. But a day bed can also provide guest space without needing to devote an entire room. There are so many benefits to investing in a day bed.
Easy To Customize
Simply changing the linens on a day bed can drastically change the overall look of the piece. Go with dark and warm colors to evoke a cozy cocoon feel. Choose lighter colors or flowers to give the room a feminine or airy look. With the right accent pillows, the day bed can look nothing like a bed until the person using it is ready to go to sleep for the night.
Known for Functionality
The day bed is best known for its functionality. Day beds can also be found with the addition of trundle beds – offering extra bed space. It is almost as if the bed is in a drawer underneath. This type of custom furniture is super popular in children's rooms as it makes sleepovers very easy to accommodate. Just pull out the trundle when (and if) the slumber party is about to turn in for the night and push it back out of sight in the morning.
Reliable Comfort
Inflatable mattresses may have the advantage of being portable, but they do not provide the comfort that a day bed can. Air mattresses can leak and lose support throughout the night, but a real mattress makes your sleep on a day bed that much more comfortable. Day beds do vary in terms of quality and you may want to consider how often the bed will be used when you evaluate how firm a mattress you need. Frequent use will warrant a much firmer mattress, so it can stand up to the weight of sitting and sleeping on it equally well.
A Variety of Options
Some have back rests that are moveable, so that you can customize the location of that part. They have a distinct advantage over futons in that they do not have to be opened or closed in order to access the mattress. Because a futon is folded for the majority of the time, the mattress can have a compressed or worn out section from this type of use. This does not happen with a day bed. Day beds are also more easily moved or stored than a futon or sofabed, since there is no extra construction to "hide" the mattress making it heavier.
If you do have to move your day bed, there are furniture disassembly services in NJ and NY that can help you get it to your next location.