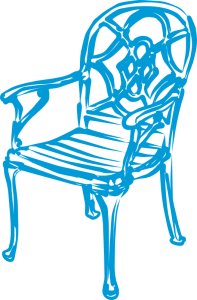 NYC is a great place to be inspired by furniture design ideas, especially if you like contemporary, eclectic furniture. Bold, modern pieces capture the city's electric vibe, and make a statement about your own personal sense of style. There are any number of places to go in the city to score amazing furniture for your home or apartment.
But what if you don't want somebody else's ideas in your home, or don't want mass-produced furniture? What if you know exactly what you want, but can't find it anywhere? What if you find apiece that you love, but it's just too big to get through the doorway or up the stairs? What if you have an exciting, one-of-a-kind piece, and want matching companion furniture?
These are common decorating dilemmas, but all of them have a simple solution. Custom made or reupholstered furniture allows today's sophisticated designer to realize her own unique vision for her home. It also has the advantage of being a custom fit – you design the piece to fit the available space, rather than buying a piece and hoping it will get through the door!
Custom furniture services are wonderful if you live in a high-rise apartment, and can be a Godsend if you're moving a large piece. Some furniture designers can disassemble a piece to bring it to you quickly and easily, and then expertly reassemble it in your home. No need for drama in the elevator or staircase!
This kind of service can also save you quite a bit of money. If you have a damaged piece, a designer who offers furniture reupholstery can often restore fabric and leather pieces so thoroughly that no one would ever know that they had been scratched or torn. Restoration is almost always less expensive than buying a new sofa or chair.
It's also handy if you want to tweak an existing piece. Only changing the fabric and trim on a sofa or chair is not your only option. You can also change its shape from square to round, or add or remove arms. If you have an existing piece that you love but can't match it to anything, you can create custom accessory pieces that complement it perfectly.
Nearly every woman has fantasized about being an interior designer at one time or another. Some furniture specialists in the city can help that dream come true. Their services allow each client to create her own new and exciting designs – designs that don't exist anywhere else, and that are a unique expression of her own individuality. Imagine choosing your own custom look from an array of designer fabrics and prints, and then matching it to the precise style and shape that you want. Imagine telling your friends that they can't get it anywhere else – and that you're the designer!
Custom made furniture is about freedom and control. It's about expressing your own sense of creativity and style. It's about convenience. It even saves money! Consider the services of a furniture specialist for your decorating needs. You may never go back to buying mass-produced pieces again!