Industrial design has many features that make it attractive for home décor, and good news – you don't have to own a trendy loft apartment downtown to pull off this look. Industrial pieces are spare, modern-looking, low-maintenance and sturdy. They blend readily with many other types of décor, and you can add this look to your home fairly inexpensively. But if you're more concerned with effect than cost, industrial also is a great décor for showcasing innovative custom furniture that borders on modern art. Here are five ideas for incorporating industrial home design.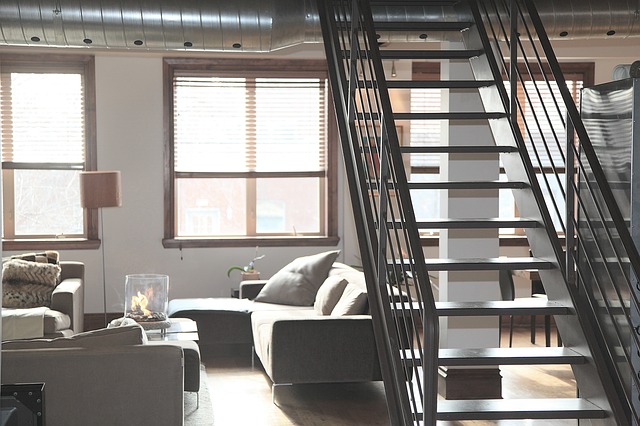 Space
Industrial décor is inspired by factories and warehouses, so if you're going for a true industrial look, you don't want small, cramped rooms or lots of knickknacks. Industrial is a utilitarian, almost severe look, and large, open spaces are essential to pulling it off successfully. Remove unnecessary furniture and bric a brac from your home; pare the rooms down to their most basic elements. You want only clean, simple lines and lots of empty space. Individual pieces may be strong, but they should blend into the room. No one element should call undue attention to itself; with industrial, you're going for the overall effect: clean, spare, strong and simple.
Light
Unobstructed light is a signature element of industrial style. There are few, if any, window treatments with this style, so strip off the drapes and curtains and let the sun shine in through your windows. Unusual light fixtures are common within this style, and may consist of repurposed industrial objects, bare bulbs, warehouse lighting, or the like. Lamp shades are often made of metal, if there are any at all.
Metal and Wood
Metal is the signature element of Industrial décor – metal railings, frames and fixtures and integral to the style. Metal is often incorporated into Industrial-style furniture, especially as table legs or chair arms. Fabric cushions or pillows are totally unadorned, if they are there at all. If you want to give an existing piece of furniture an Industrial makeover, you can have a furniture pro complete a reupholstery job to add metal legs or arms, remove seat padding altogether, or to make the padding completely plain. While metal is essential to this look, it can give your home a sterile look if you overdo it. You can soften the look by adding blonde woods, muted wall color, and area rugs to your décor.
Repurposing
The Industrial style is all about repurposing old work objects and giving them a second life in the home. Don't be afraid to experiment with found objects from flea markets or even junk yards. If you're handy, and can turn a hub cap into a clock or a wooden crate into a table, so much the better. While a "used" look to metal or wooden objects is desirable, just be sure to give any repurposed cloth objects a professional fabric cleaning before introducing them to your home.
Neutrals
Industrial is a spare, almost severe look, and this aesthetic expresses itself in stark colors such as white or black, or very muted ones, such as grays, off white or cream. Don't be afraid to use color, but if you want an authentic look, keep it in the background and use it in combination with neutrals.