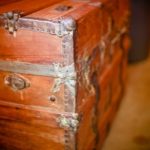 If you're like most people, you wish you had less clutter, or more storage, in your home. The clutter in your house may come to your attention as a result of your holiday parties, but many things may trigger a housecleaning impulse this time of year. Most everyone starts to think about streamlining their homes during the New Year's resolution period. But if you don't want to throw everything away, there's good news. There are many ways to keep your possessions tucked safely out of sight, or at least out of the way. Take a look at these five unexpected storage ideas for your home.
Hidden Shelves or Drawers
Hidden shelves or drawers are an old idea that can be updated to fit into even the most modern home decors. Some companies specialize in making drawers, cabinets, shelves or even doors look just like the paneling, or the side of a wall. A secret cupboard can be hidden behind a painting or poster. Some pieces of furniture even have hidden or secret doors for storing items that you would rather keep private. A guest would have to know how to disassemble furniture to uncover your secret!
Hang it from the Ceiling
Any room in your house that needs more storage can benefit if you do a little thinking outside the box. Hang pots and pans from the kitchen ceiling, sports equipment from the garage ceiling, and racks of clothing from the basement ceiling. Don't be afraid to use all the space on your walls, either. Install ceiling high bookcases, mount shelves to the very top of the wall, and utilize the spaces over windows and doors. Custom furniture is just one of the ways to create high shelves or cases. Don't forget to go low, as well: store shoes and quilt boxes under the bed, store a row of books under a table, and tuck small accessories or a tool box underneath the sofa.
Mount racks, boxes or organizers to the inside of doors
If you have many small objects that need to be stored in the same place, such as spice bottles or soup cans inside the kitchen, mount racks or boxes to the inside of the cabinet doors. This tip it is also useful for the bedroom and bathroom, as well: a shoe rack or belt organizer can help you utilize the empty space behind your bedroom door. A towel rack behind your bathroom door can keep your towels and washcloths handy while freeing up important floor space in the smallest room of your house. If you have a freestanding sink rather than a cabinet sink, install a skirt around the sink to store small cleaning supply items.
Footrest storage
Sometimes an ottoman can double as a large, discreet storage unit. Many ottomans have a removable top and a hollow interior where you can store TV remotes, magazines, or crossword puzzles. If they're large enough, some ottomans can do double duty as an extra seat or table.
Outdoor chest of drawers
If you have a patio or balcony, a small chest of drawers doesn't take up much space and can provide some additional storage for items that aren't sensitive to humidity or temperature. Be sure to install shelves on the walls of your patio, as well.