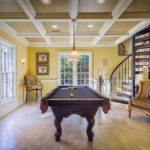 Try these six home furniture makeover ideas for a fresh new look without the expense of buying new furniture.
If you're considering the purchase of a new sofa or chair, there's a less expensive alternative that you should consider – a furniture makeover. A skillful furniture makeover can produce the same effect that a new piece achieves, at a much lower price. Take a look at these six ideas before committing to a pricey new purchase.
New upholstery
It's truly amazing what new upholstery can do for an old sofa or chair. Even ragged thrift store or flea market finds can be transformed to look like showroom stars with new upholstery – and cost a fraction of the price. If you aren't going to buy new, you can afford to spend a little more on a great fabric, and you'll probably still save money. You can go with silk, brocade, toile or leather to make that dull solid-color sofa into something truly special.
Redesign
A furniture pro has the skill to not just slap new upholstery on a piece, but to completely alter its design according to your specifications. Always hated those claw foot legs? Swap them out for something more modern. Were the arms on that chair uncomfortable? Have them taken completely off. In the hands of a skilled furniture pro, the piece will be as beautiful as if it looked that way new.
Refinish
If you have an antique chifferobe, a damaged wooden table, or a worn wooden rocker, a refinishing or repainting job can make it look like a completely different piece of furniture. You can opt to do this job yourself if it's a simple fix, but in the case of antique, valuable, or sentimental pieces, it's probably best to go with a furniture pro.
Resizing
It can be very useful to have a beloved piece resized, particularly if you're moving to a smaller home or apartment. A furniture pro can make a sofa, table or chair smaller to be a better fit. Even if you don't choose to resize a piece, a furniture pro can still make it much easier to move because he can disassemble furniture for the move, and then reassemble it in your new home.
Create from scratch
If you like, a furniture pro can create a new sofa, bed or dining room table completely from scratch, and to your specifications. A piece of custom furniture gives you the fun of choosing exactly the look you want, as opposed to choosing from a preselected pool of possibilities. It is also a tribute to your design talents and tastes, and will ensure that your decor is completely unique.
Fabric protection
It's always wise to have delicate, valuable or highly used furniture treated with fabric protection to ensure that it will have a long, useful life. If you have children or pets, it's almost a necessity.
These six home furniture makeovers can give your home a showroom look even if you don't have a showroom budget. With a little creativity, and the help of a furniture pro, your furniture can look stylish and beautiful for many years.