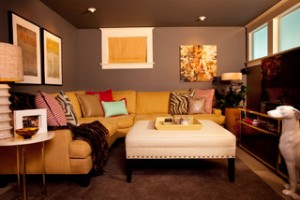 More often than not, we let our basements go to waste. Gathering dust bunnies, boxed memories, and items we never knew we had, basements harbor unneeded items. A great basement space can be cleared and altered to better suit the needs of you and your family. A favorite of many home owners, use your unique space to create a brilliant basement den that'll turn your once boring space into an area you never want to leave.
First thing's first. Clean the area thoroughly, ensuring that all your storage is moved into a the proper place and that all the dust it leaves behind is clear. Ensure that there is no lingering mold. Consult an expert if you must to take a look around and make sure there are no structural issues or damaged areas that need to be repaired right away. Once the area is clear and has passed inspection, it is time to look at it with a more stylish eye.
You must consider what you want out of this den. Will this be the perfect man cave for the man of the house or a place your entire family can happily enjoy together? Aim for the latter so that the space can be used by all. You want everyone member of the family to get the most out of your house in the most positive way possible. By sharing a space, your family has a specified area to come together in a cozy and loving environment.
Seating is of the utmost importance. After all you want your family and friends to be comfortable and happy in your new basement den. Find a sofa that fits the room perfectly and aligns with the design you have in mind. If you're having a severely hard time trying to find the right couch, you may want to consider creating a custom made sofa. Find a company that will work with you to create a unique piece that is both stylish and comfortable, one that adequately fits the room and its role in your family's new den. Be careful though. You may want to consider hiring a professional to disassemble and reassemble your furniture. Basement stairs can be extremely difficult to navigate, especially while holding a tremendous piece of furniture. Find a company that also has pick up and delivery services. Trust and allow the experts to carefully move your furniture without damaging any of the pieces. You'll be grateful for the help and happier without the added stress.
After you find the right sofa, it's time to decorate! Pick a theme your entire family will love. From woodsy to whimsical, there is something out there that is sure to please everyone. When lost for inspiration consider the area you live in. What colors or designs would make that come alive? Or look beyond to other cultures for a terrific taste of fun and fearless designs. Whatever you choose, make it yours.